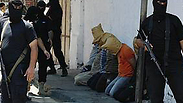 Can Hamas be compared to ISIS?
After the Islamic State, formerly known as ISIS, muscled its way through much of Iraq and Syria in a lightning military campaign, and the Israeli-Palestinian conflict devolved once again into combat in the West Bank, propaganda campaigns have been rife with comparisons of the two organizations. Senior Hamas official Izzat al-Rishq however, said Friday that such judgment is nothing short of insulting.

Al-Rishq took to Twitter and blamed Prime Minister Benjamin Netanyahu for making the unfair comparison between Hamas and ISIS for politically charged reasons as part of the propaganda war being waged parallel to the military conflict.

"This is a cheap and deplorable attempt from Netanyahu to compare between the organizations," wrote al-Rishq. "They aren't fooling anybody."

Prime Minister Netanyahu has referred to the two groups as one and the same on several different occasions. "Hamas is ISIS and ISIS is Hamas," the Israeli leader told US congressman Darrell Issa in a recent meeting.

Netanyahu also made the comparison during a recent press conference saying that the two organizations were "two branches of the same tree".

Al-Rishq sharply disagreed on his Twitter account saying that, "Hamas is a national movement and its members are freedom fighters who are trying to liberate Palestine along with its citizens and their rights."

Recent events have further encouraged those who consider Hamas and ISIS to be of the same creed, as the Islamic State released a video in which they beheaded James Foley, an American reporter, and threatened to attack US targets.

Just Thursday and Friday, Hamas similarly executed a total of 21 people who they claimed to be spies for Israel. Some of those victims were executed in a public display attended by hundreds of Gazans.

Several reports have indicated over the past few months that ISIS may already have a small presence in the Gaza Strip, though Hamas vehemently denies these claims. ISIS also tried to claim responsibility for the abduction and murder of three Israeli teens that sparked the current conflict in Gaza.