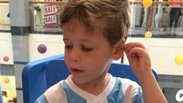 4-year-old Daniel Tregerman.
Four-year-old Daniel Tregerman became on Friday afternoon, the first child casualty in Israel since the beginning of Operation Protective Edge when a mortar fired from Gaza struck his kibbutz in the Sha'ar HaNegev Regional Council, and took his life.

Tregerman's parents Gila and Doron, had left their home in the south due to constant rocket fire from Gaza, but decided to return just a few days ago partly on the promise of security officials, including Chief of Staff Benny Gantz who said that residents of the south would be safe.

Then the ceasefire with Hamas collapsed into violence and rocket fire on Tuesday and the Tregerman family found themselves at the wrong place at the wrong time.

The whole Tregerman family was at home when the mortar was fired on Friday. The children played and the parents made plans to leave the kibbutz later in the day.

When the code red sirens sounded, the parents sprung into action and got their two youngest children into their shelter, but Daniel was still outside when time ran out, and the mortar struck. The 4-year-old was critically wounded and died shortly afterwards.

Gila Tregerman is the spokesperson for the Merhavim Regional Council and Doron works as a landscape architect.

Michal Shaban Kotzer, the spokesperson for the Sha'ar HaNegev Regional Council said that she has known Gila for years as a colleague.

"This is a very sad and very difficult occurrence. I saw her a few moments ago. I gave her a big hug, that's all I could do. That probably isn't very consoling."

Security officials reported later in the evening that the mortar had been fired from within an UNRWA school in Gaza.

Yoav Zitun also contributed to this report.