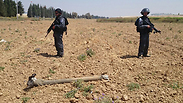 Rocket lands in open area in Sdot Negev
Photo: Police Spokesman's Office
At least five rockets were fired from Syria at the northern Golan Heights Saturday overnight, after a rocket fired from Lebanon hit an empty house in the Western Galilee earlier.
Rocket alert sirens blared through the Golan Heights at least three times around 1:30am in short intervals. All of the rockets hit open areas, while three of them hit close to communities in the northern Golan. There were no reports of wounded.
Earlier Saturday night, two people were lightly wounded from rocket shrapnel in Be'er Sheva on Saturday night after two rockets hit a parking lot and a park in the city, police said.
Lebanese reports indicated that two rockets had been fired into Israel from Dheira in southern Lebanon, three kilometers from the border with Israel. According to the reports, security forces from Lebanon began searching for the locations from where the rockets were fired.
A Lebanese source said IAF helicopters were seen flying over the area of ​​the border.
Some 100 rockets were fired at Israel on Saturday, with one of the rockets hitting a communal dining hall in Nahal Oz, the very same kibbutz in which 4-year-old Daniel Tregerman was killed from a mortar hit the day before. Damage was caused to the structure, but fortunately there were no injuries.
At least one rocket was intercepted over Petah Tikvah in a rocket volley at central Israel on Saturday evening, with shrapnel falling the yard of a house. Three rockets were intercepted earlier over Ashkelon and shrapnel from the interceptions caused damage to buildings in the city. Another rocket shot down over Sdot Negev. One rocket hit an open area in Sdot Negev, one in Be'er Tuviya that started a fire, and three in open areas in Eshkol and another hitting a cowshed.
Rocket fire inceased in the late afternoon, with seven rockets hitting open areas in Eshkol and two inside communities, one of which caused light damage to a storage space. Six rockets hit Sdot Negev while four were intercepted by the Iron Dome over Hof Ashkelon.
In the early afternoon, 1 rocket landed inside a community in Eshkol, causing damage to houses while another landed near the border fence inside the regional council's area. No one was hurt. One rocket landed in an open area in Sdot Negev, while three rockets were intercepted over Ashdod, Ashkelon and Hof Ashkelon.
Around noontime, two rockets hit open areas in Sdot Negev, while another hit inside a community in Eshkol. One woman was treated by paramedics for shock.
Sirens sounded multiple times around noontime in the Sha'ar HaNegev, Sdot Negev and Eshkol Regional Councils. One rocket exploded in a small forest near one of the communities, causing a fire to erupt.
Five other rockets exploded inside communities in Eshkol, causing damage to property, including agricultural machinery, tractors and houses. One woman suffered from an anxiety attack after a rocket hit in the area. Another rocket was intercepted above Ashkelon.
Palestinian rocket attacks continued to pound southern Israel on Saturday morning, with six rockets landing in the Sdot Negev Regional Council area. Iron Dome shot down one rocket above the council.
Violent weekend
Four-year-old Daniel Tregerman became on Friday afternoon the first child casualty in Israel since the beginning of Operation Protective Edge when a mortar fired from Gaza struck his kibbutz in the Sha'ar HaNegev Regional Council, and took his life.
4-year-old Daniel Tregerman was killed while running for shelter
On Saturday morning, the IDF Spokesperson's Unit said that the mortar that killed Tregerman was fired from a Palestinian Authority school that provides shelter for refugees in the Gaza Strip, and is close to an UNRWA facility.
Earlier Saturday, security officials stated that the mortar had been fired from within an UNRWA school in Gaza.
AFP contributed to this report.