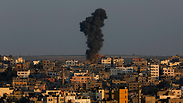 The Israel Air Force fired 2 missiles at the 12-story Zafer Tower, one in a group of several high-rises in the upscale Tel al-Hawa neighborhood in Gaza City on Saturday evening, causing the building to collapse and sending a huge ball of fire and a black cloud of smoke into the air. The force of the blast shook neighboring buildings.
IAF strike hits building
Gaza police said a warning missile had been fired five minutes earlier and that some residents were able to rush out of the building in time. Still, 22 people were wounded, including 11 children and five women, according to Gaza hospital officials.
The IDF Spokesman said the building was a center of terror activity, and housed several Hamas operation rooms.
Elsewhere in Gaza, an airstrike on a car killed a man and wounded 11 people, said Ayman Sahabani, head of the emergency room at Gaza City's Shifa Hospital. The Popular Front for the Liberation of Palestine later identified the man killed as a field commander.
Earlier Saturday, Gaza health officials said five people, including two children, were killed in an Israeli strike on a house in central Gaza. Four more Palestinians were killed in other strikes.
The Israeli military said it bombed about 60 targets across the Hamas-dominated strip, including rocket launchers and weapon caches.
The Israeli military said Palestinian gunmen had fired some 500 rockets at Israel since the talks broke down and Gaza health officials said 65 Palestinians had been killed in Israeli air strikes since then.
Palestinian health officials say 2,080 people, most of them civilians, have been killed in the small, densely populated coastal enclave since July 8, when Israel launched an offensive with the declared aim of ending rocket fire into its territory.
The United Nations says about 400,000 Gazans have been displaced and more than 400 children killed in the longest and deadliest violence between Israel and the Palestinians since the second Intifada, or Palestinian uprising, a decade ago.
Prime Minister Benjamin Netanyahu on Friday threatened to escalate the fight against Hamas, vowing the militant group would "pay a heavy price" after a four-year-old Israeli boy was killed by a mortar attack from Gaza.
The boy killed on Friday was the first Israeli child to have died in the conflict, bringing to four the number of civilians killed in Israel. Sixty-four Israeli soldiers have also been killed in the fighting.
The Israeli military had said on Friday the mortar was fired from a school serving as a UN shelter, but later retracted that statement, saying the shelter was run by Hamas.
Israel warned Friday that it was stepping up its attacks on Gaza, as the IDF carried out more than 35 air strikes in Gaza on Friday, killing four people and in another strike after darkness fell another 40 people were wounded some of them seriously, a Palestinian health ministry spokesman said.
IDF Spokesman Brig.-Gen. Motti Almoz on Friday warned Palestinians in Gaza near weapons stockpiles to leave their homes.
"We are intensifying our attacks," he said, adding that Israel was "preparing for possible ground action".
Israel pulled its infantry and armored corps forces out of Gaza more than two weeks ago, after destroying much of Hamas' network of border infiltration tunnels.
Reuters and the Associated Press contributed to this report.