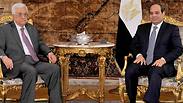 Abbas meeting with al-Sisi in Cairo
Photo: AFP
GAZA/CAIRO - Egypt called on Israel and the Palestinians on Saturday to halt fire and resume peace talks, but violence continued unabated with Israeli air strikes in the Gaza Strip and Hamas terrorists firing rockets at the Jewish state.

A senior Egyptian diplomat said Palestinian Authority President Mahmoud Abbas had informed Sisi that Hamas was prepared to come to Cairo for further talks, but Hamas did not immediately confirm the report. Israel also had no immediate comment.

A senior Egyptian source said Saturday that Cairo plans to welcome back the Palestinian and Israeli delegations to renew ceasefire talks with Hamas. The source said that the Egyptians are expecting to formally and directly invite the Israelis back to Cairo on Sunday.

The source also said that Palestinian President Mahmoud Abbas insists that Egypt continue its role as mediator of ceasefire talks. He also said that outside sources had been responsible for taking that role away from Egypt and claimed that this contributed to the collapse of previous talks.

Indirect ceasefire talks mediated by Egypt to end the deadly six-week conflict collapsed on Tuesday after rockets were fired from Gaza during a truce and Israel responded with air strikes.

The Egyptian Foreign Ministry issued a short statement on Saturday calling on both sides to resume talks. Abbas, in Cairo after meeting President Abdel Fattah al-Sisi, also urged swift resumption of negotiations.

The Egyptian diplomat said Cairo expected to receive responses from both Israel and Hamas, the Islamist militant group which dominates Gaza, by Monday.

The talks, conducted in Cairo, do not involve direct meetings between Israeli officials and representatives of Hamas. Israel considers Hamas a terrorist organisation and Hamas for its part refuses to recognize Israel. Egyptian officials shuttle between the two sides.

Hamas has said it will not stop fighting until the Israeli-Egyptian blockade on Gaza is lifted.

Both Israel and Egypt view Hamas as a security threat and are reluctant to make sweeping concessions without guarantees weapons will not enter the economically-crippled enclave.

Hamas' spokesperson in the Gaza Strip Mushir al-Masri said Saturday that the organization will continue fighting until Israel gives in to their demands. "The fighting is the strategy of the Palestinian people until Israel meets the Palestinian demands."

Al-Masri added that, "We won't agree to an open-ended agreement with the enemy. There won't be any more talks like there were up until now. We must know beforehand that diplomatic efforts are tied to diplomatic or military pressure that will convince Israel to meet the Palestinian demands."

Israeli government spokesman Mark Regev had no immediate comment regarding the renewed call for a cease-fire. Sami Abu Zuhri, a spokesman for Gaza's ruling Hamas, said the group would consider the Egyptian appeal, but there was no sign it would budge from longstanding demands.

Israeli officials said it's still unclear how long the operation would last. "We're waiting to see what happens in Egypt, what comes out of there. This track (of talks) can still be revived, and that's why at this point we continue striking them. It could last a few more days."

While the government doesn't encourage residents to evacuate the Gaza border communities, the sources said Israel would help anyone who wants to leave the area.

Cabinet members said they were relying on estimates and assessments from the IDF, Military Intelligence and the Shin Bet, and at present it appeared the fighting will continue without a clearly defined end-date.

The Cairo talks had aimed to secure a lasting deal that would open the way for reconstruction aid to flow into the Gaza territory of 1.8 million people, where thousands of homes have been destroyed.

"My main goal is for the truce talks to resume in Egypt as soon as possible to avoid more casualties," Abbas told a news conference in Cairo.

Attila Somfalvi contributed to this report.