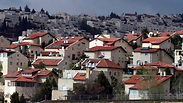 Pisgat Ze'ev
Photo: Gil Yohanan
A police force shot and seriously wounded a 20-year-old man from the Shuafat refugee camp in East Jerusalem who is suspected of firing at homes in the Pisgat Ze'ev neighborhood on Friday and Saturday afternoon.

After bullets hit several homes in the East Jerusalem Jewish neighborhood on Friday, the police decided to send a special unit from the Jerusalem Border Police to ambush the shooter.

When several shots were fired from Shuafat at Pisgat Ze'ev on Saturday, the special force returned fire and wounded the suspect.

The suspect was taken by a Red Crescent ambulance to the Hadassah Medical Center in Jerusalem's Ein Kerem, where he was taken into surgery.

Police forces were searching the area for additional suspects.

This incident was preceded by a rock-throwing incident on Friday night. An Israeli vehicle driving by the Beit Hanina neighborhood in East Jerusalem was pelted with bricks.

One of the passengers was lightly wounded from glass shrapnel while shielding a year-old baby with her body.

The Jerusalem District Police arrested two suspects and took them in for questioning.