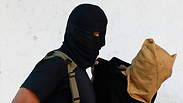 Hamas militants execute 'collaborators'
Photo: Reuters
Hamas' executions spree continued unabated on Saturday despite the uproar it caused when the organization executed in Gaza four additional civilians who were suspected of collaborating with Israel.

This raises the total amount of Palestinian "suspects" that have been executed in the Strip since Thursday to 25, with 18 of them being executed on Friday alone.

צילום:רויטרס

According to Palestinian sources, masked armed men brought the four suspects to a main square in the Jabaliya refugee camp, where they shot them in front of dozens of spectators.

Shortly after the execution, Hamas said the suspects stood trial and were charged based on evidence.

Hamas is keeping the identities of the suspected collaborators under wraps to avoid backlash against their families.

A senior aid to Palestinian Authority President Mahmoud Abbas, Tayeb Abdel Rahim, strongly condemned the wave of executions in the Strip, saying they were "provocative." He went on to say the executions were done illegally and without a fair trial.

Hamas foreign leaders publically expressed full support Saturday for the executions carried out over the last two days in the Gaza Strip saying that, "The people who were executed were convicted in court for cooperating with the Israelis. Judges convicted them and then sentenced them to death. It should have been done within the prison compound, but these executions were carried out in the streets because of the war."




Amnesty International called on Hamas to halt the campaign of summary executions of suspected collaborators.

"This flurry of executions by Hamas is made even more shocking by the fact that the victims were sentenced to death after trials which, if they happened at all, were summary and grossly unfair," said Anne FitzGerald, Amnesty International's Director of Research and Crisis Response. "Hamas must immediately and totally cease its use of the death penalty."

"To put people to death following summary and grossly unfair proceedings is clearly cruel and inhumane. Hamas must also remember that the right to a fair trial before a competent court remains in force during times of armed conflict," said FitzGerald.