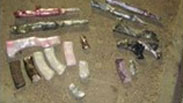 Gazans want truce, but not disarmament.
In a survey released Saturday by the Palestinian Center for Public Opinion (PCPO), the majority of Gaza's residents said that they supported a long-term agreement for peace with Israel, but that disarmament of the Gaza Strip was an unacceptable demand from the Jewish State.

PCPO workers went door to door to ask their subjects some important questions and 87.6% of those asked said that they wanted a long-term agreement to be reached to stop the fighting, but even more, 93.2% said that disarmament of Hamas and the Gaza Strip was out of the question.

Internationally overseen disarmament of the Gaza Strip has been one of Israel's chief demands in order to come to a long-term truce, citing that Hamas has repeatedly used periods of calm to rearm and acquire greater military capabilities for the next cross-border fight.

During ceasefire talks in Cairo, Hamas has also expressed that disarmament was an unacceptable term and also insisted that time tables be imposed to build a sea and airport inside the Gaza Strip.

The PCPO poll also asked residents about Egypt's role as a mediator. When asked, "Up to which extent are you content with the mediation role Egypt Has Played during the military operation?" 14.7% said that they were very content, 31.3% said fairly content and 33.4% percent said that they weren't content at all.

Related stories:

Other timely topics were covered in the survey including Palestinian's opinion of ISIS who some fear could form terror cells in the Strip, weakening Hamas' rule and further threatening Israel.

Despite repeated comments from Prime Minister Benjamin Netanyahu and others suggesting that ISIS and Hamas are one and the same, 85.2% of Gazans told the PCPO that they are opposed to ISIS, though 13.1% said that they support the group.

The survey included in cities and governorates throughout the Gaza Strip, and 1000 people were randomly chosen according to their areas of residence. A different number of people were chosen in each area based on that zone's percentage of the overall population.