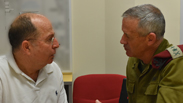 Defense Minister Ya'alon and IDF chief of staff Gantz visit south
Photo: Ariel Hermoni, Defense Ministry
Defense Minister Moshe Ya'alon urged the residents of the south on Saturday to stay strong as Israel continued its military operations against Hamas in Gaza, in order to "maneuver it to a diplomatic agreement."
"The Gaza border communities are going through difficult days indeed, but we're in the midst of a campaign," Ya'alon said. "This campaign has diplomatic aspects, military aspects and one other important aspect - the citizens' resilience. It is not a coincidence the other side is trying to attack citizens. We will win in the end. This is a test of determination, of resilience, a test for us as a society."
Ya'alon and IDF Chief of Staff Benny Gantz visited the southern communities over the bloody weekend, that saw the death of 4-year-old Daniel Tregerman from a mortar hit, but they did not get a chance to get to Nahal Oz, where Daniel was killed, because of the continued rocket fire.
"I'm convinced the other side in its current situation needs a ceasefire more than we do, and it'll happen at some point," Ya'alon said.


Ya'alon also said none of the civilians executed by Hamas for allegedly collaborating with Israel "had anything to do with the assassinations" of Hamas commanders this week.
The defense minister warned Hamas against trying to wage a war of attrition against Israel. "It won't be beneficial for them, and they'll be worn down before we will be," he said.


He also praised the IDF, saying the army "knows how to think and act creatively," and dismissed criticism against the army, "I think the IDF, headed by the chief of staff, are doing an excellent job, and will continue doing an excellent job, of course in accordance with instructions from the political leadership."
Ya'alon promised Israel "won't stop until it brings calm and security" that would last for as long as possible.
A senior IDF official estimated on Saturday that Hamas has less than 30% of the rockets it had in its arsenal left, among them only dozens that can hit central Israel.
"On day 47 of the operation the short-range rocket fire mostly continues, and this is also the majority of Hamas' remaining stock," he said.