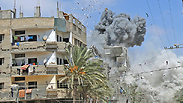 IAF strike on Shati refugee camp
Photo: EPA
The IDF said it had carried out some 50 strikes on Gaza on Sunday, including hidden rocket launcher, weapons manufacturing sites, arms caches and terror activity centers.
A total of eight people were killed in the airstrikes. Israel said one of the dead was Mohammed al-Ghoul, a Hamas official involved in handling the group's finances. The IAF also attacked two terrorists who were launching rockets at Sderot.
A seperate Israeli air strike killed two people on a motorcycle in Gaza City early on Sunday, medical officials said.
Palestinian health officials also said a woman and her three children were killed in an IAF strike on a house in al-Zaatar neighborhood in the Jabaliya refugee camp in northern Gaza.
IAF jets struck two militants in the northern Gaza Strip on Sunday night after they fired rockets at Sderot earlier, as well as the rocket launcher used to fire a rocket towards Jerusalem, also in northern Gaza.
Palestinian sources in the Gaza Strip reported that the IDF had attacked several targets in the area of Khan Younis. Local media sources connected to Hamas reported that over 10 homes had been destroyed in the attacks and that several people were wounded.
Early Sunday, IAF airstrikes have leveled a seven-floor office building and severely damaged a two-story commercial building with dozens of shops in the southern town of Rafah.
The Israeli military had no initial comment on the strike and it was unclear if those killed had any particular militant affiliation.
The attack came after Saturday saw over 100 rockets slam into Israel from Gaza, with at least five more hitting Israel from the north. Mortar fire later Friday night killed four-year-old Daniel Tregerman, he is the first Israeli child causality since Operation Protective Edge began over a month ago.
An office of the Hamas-run Interior Ministry was located in the seven-story Zourab building. Local residents said it housed 44 families. Police say seven people were wounded by the bombing of the commercial center in Rafah. There were no reports of casualties from the other strike.
The strikes in the southern town of Rafah came just hours after Israel bombed an apartment tower in Gaza City, collapsing the 12-story building with 44 apartments. Around 30 people were wounded in the strikes, but no one was killed, Palestinian officials said.
The targeting of large buildings appears to be part of a new military tactic by Israel. Over the weekend, the army began warning Gaza residents in automated phone calls that it would target buildings harboring "terrorist infrastructure" and that they should stay away.
A senior military official confirmed that Israel has a policy of striking at buildings containing Hamas operational centers or those from which military activities are launched. The official said each strike required prior approval from military lawyers and is carried out only after the local population is warned.
However, he said, there was now a widening of locations that the military can target. The official spoke on condition of anonymity because he was not permitted to discuss the matter with reporters.
In the 12-story apartment tower, the target was a fourth-floor apartment where Hamas ran an operations center, according to Israeli media. In the past, Israel has carried out pinpoint strikes, targeting apartments in high-rises with missiles, while leaving the buildings standing. However, this time a decision was made to bring down the entire tower, according to Channel 10.
The military declined immediate comment when asked why it collapsed the entire building instead of striking a specific apartment.
Speaking ahead of the weekly cabinet meeting, Prime Minister Benjamin Netanyahu warned Gaza residents to keep their distance from Hamas militants.
"I call on the people of Gaza to immediately evacuate any structure that Hamas is using to commit acts of terror," he said. "Every one of these structures is a target for us."
.
Palestinian health officials say 2,080 people, most of them civilians, have been killed in the small, densely populated coastal enclave since July 8, when Israel launched an offensive with the declared aim of ending rocket fire into its territory.
Elior Levy, Roi Kais, The Associated Press and Reuters contributed to this report.