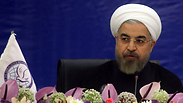 President Hassan Rouhani
Photo: AFP
Iran has produced a new generation of short-range marine missiles and aerial drones, the official IRNA news agency reported Sunday.
The report said the Ghadir missile, with a range of 100 kilometers (62 miles), is designed to destroy marine targets. It did not give a range for the Nasr-e Basir cruise missile, but said it could "operate in silence," without elaborating.
Iran has unveiled two new drones, the high-altitude Karrar-4 and the Mohajer-4. The latter can be used to generate maps for both military and civilian purposes, IRNA said.
The report said President Hassan Rouhani attended a ceremony marking the inauguration.
Tehran regularly announces military advances that cannot be independently verified.
Iran launched a homegrown defense industry in 1992 that produces light and heavy weapons ranging from mortars to tanks and submarines. It has surface-to-surface missiles with a range of about 2,000 kilometers (1,250 miles), enough to reach Israel and US military bases in the region.
Last week Iranian President Hassan Rouhani told the visiting head of the UN nuclear watchdog that Tehran will not discuss its long-range missile program as part of talks aimed at resolving a decade-long nuclear dispute, official media reported.
UN nuclear agency chief Yukiya Amano said Sunday's visit to Tehran was useful and that he was very glad to hear a firm commitment from Iran to resolve all outstanding issues through cooperation between the two sides.
Amano's trip came ahead of an Aug. 25 deadline for Iran to provide information relevant to the International Atomic Energy Agency's (IAEA) inquiry into what it calls the possible military dimensions of the country's disputed nuclear programme.
"Iran's missile power is not negotiable in any level under any pretext," Rouhani told Amano, the official IRNA news service reported.
The president added, however, that Iran is prepared to cooperate with the IAEA's probe into whether its civilian nuclear program has a military component, "since there is no room for using a weapon of mass destruction in Iran's defense doctrine."
Amano's visit cames as world powers continued to negotiate with the Islamic Republic for a permanent deal over its contested nuclear program. Those talks face a November deadline after an interim deal was struck last year.