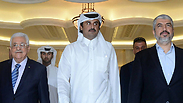 Qatari emir, Sheik Tamim bin Hamad Al Thani with Palestinian President Abbas, Hamas leader Mashal
Photo: AFP
The Gulf nation of Qatar is hitting back at suggestions that it supports Hamas and the Islamic State extremist group, saying that "determined, collective action" is needed to end sectarian violence gripping Iraq and Syria.

The energy-rich OPEC member has come under renewed scrutiny over its ties to militants, including the Palestinian Hamas and Syrian rebel groups. A German official last week suggested that Qatar may also play a role in funding the Islamic State group, which is fighting in Iraq and Syria and was behind the recent beheading of American journalist James Foley.

Related stories:

Qatari Foreign Minister Khalid bin Mohammed al-Attiyah unequivocally denied funding the extremist group.

"Qatar does not support extremist groups, including ISIS, in any way," he said in an emailed statement dated Saturday, using an alternative name for the group. "We are repelled by their views, their violent methods and their ambitions. The vision of extremist groups for the region is one that we have not, nor will ever, support in any way."

Qatar has also come under fire over its perceived support for Hamas.

The Gulf state is home to exiled Hamas leader Khaled Mashaal and is a key financial patron for the Gaza Strip, which Hamas controls. Qatar denies financially backing Hamas, however, and has sought to play a role in brokering a truce to end fighting between the group and Israel.

The Qatari emir, Sheik Tamim bin Hamad Al Thani, last week held talks in Doha with Western-backed Palestinian President Mahmoud Abbas, whose Fatah movement has strained relations with Hamas.

Qatar was one of the first Middle Eastern countries to condemn Foley's murder, saying it was "a heinous crime that goes against all Islamic and humanitarian principles, as well as international laws and conventions."

The tiny Gulf emirate has supported Syrian rebels fighting to topple President Bashar Assad. The Islamic State group is battling Assad's forces, but it has also clashed with other rebel groups that don't embrace its extreme interpretation of Islam.

The group has carved out a self-declared Islamic state, or caliphate, taking in wide expanses of territory on both sides of the Syria-Iraq border.

Experts say the group generates at least some of its funding from kidnapping, extortion and other criminal business enterprises. Germany's development minister, Gerd Mueller, on Wednesday suggested that Qatar could also be supporting the group.

In a television interview with public broadcaster ZDF, Mueller said it was important to examine who is financing the group, and that "the key word is Qatar."

German officials quickly tried to smooth over that allegation.

Mueller spokeswoman Katharina Maenz told reporters Friday that he had merely been referring to media reports about Qatar's involvement. Foreign Ministry spokesman Martin Schafer said German diplomats in the Qatari capital Doha had met with Qatari officials to reassure them that Berlin considers the country a partner and that "if there were misunderstandings then we regret this."

In his statement, al-Attiyah said the killing of civilians and the forced flight of hundreds of thousands of people threatens both Iraq's existence and "the peace and security of the entire region." He called for collective action to end the sectarian violence raging in Iraq and Syria.

"There is no single answer but it must include cutting off the flow of funds to support extremist groups throughout the region," he said.