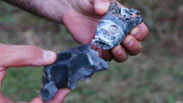 Over 80 rockets in past day
Photo: Motti Kimchi
Rocket fired from Lebanon into Israel fell near Kiryat Shmona in the north Monday night, after more than 130 rockets were launched from Gaza at Israel throughout the day, wounding one man and damaging an Ashdod shopping mall, as Egypt pressed on with efforts to broker a durable truce.

Residents in the north reported hearing three blasts near Kiryat Shmona in the Monday night, and the IDF said at least one rocket fell near the northern town, while another fell near the border with Lebanon.

Lebanese media reported that a rocket was fired from southern Lebanon. The IDF fired on positions in Lebanon Monday night in retaliation for the rocket attack, and Lebanese media reported that over 18 shells landed in southern Lebanon.

Last Saturday evening a rocket launched from southern Lebanon exploded in an open area in the Western Galilee region.

According to the IDF, 130 rockets and mortars were fired from Gaza since last midnight, some 16 of which were intercepted and four managed to land direct hits on structures.

In the evening hours a rocket was felled in central Israel, and Hamas claimed responsibility for firing an M75 rocket at the area. Meanwhile, at least three rockets slammed into the Eshkol Regional Council.

Shrapnel from a Gaza rocket shot down by an Iron Dome missile defense battery hit the Kenyon (Mall) City shopping mall in Ashdod. No injuries were initially reported from the scene. In the meantime, over 16 rockets and mortars hit the Sha'ar HaNegev Regional Council in less the 10 minutes.

In the late afternoon, three rockets from Gaza exploded in open areas in the Sdot Negev Regional Council. Beforehand, an Iron Dome missile defense battery intercepted a rocket over Ashdod and another hit an open area.

In the afternoon hours, Iron Dome intercepted one rocket over Hof Ashkelon, another fell in an open area after six rockets hit open areas in Hof Ashkelon. Two rockets hit open areas in Eshkol without code red sirens



A few minutes before 1 pm, a man was lightly wounded by a rocket that fell in the Eshkol Regional Council. A swimming pool compound and a sports field were damaged by rocket fire on Eshkol communities before 11 am. No one was injured in the incidents.

Gaza militants launched a salvo on Be'er Sheva shortly before 10 am; Iron Dome intercepted one rocket over the city. Fifteen minutes later, rockets were fired on Eshkol, with one landing in an open area.

Code Red sirens sounded from Tel Aviv to Raanana at 8:17 am, but the IDF said it was a false alarm.

Earlier, air raid sirens blared in Ashkelon, Ashdod, and Gaza-border communities shortly before 6:30 am.

At least two rockets or mortars launched from Gaza landed in the area of Eshkol, one exploding within a kibbutz and another outside. Three rockets hit open areas in the Hof Ashkelon Regional Council and three rockets were intercepted by the Iron Dome. No injuries or damages were reported in any of the incidents.

The Israeli Air Force executed 16 strikes on terror targets in the Gaza Strip, including rocket launchers and weapons manufacturing sites.

Matan Tzuri and Yoav Zitun contributed to this report.