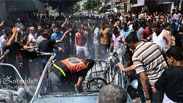 Attack on Islam Army operatives traveling in Gaza
The IAF has attacked some 70 targets in the Gaza Strip since midnight on Sunday and two militants who fired rockets into Israel were attacked and killed in central Gaza while a rocket launcher which had been set up in a school in norther Gaza was also hit.

Israel has reportedly killed three Palestinians in a targeted killing attack on a moving car in Gaza Monday afternoon. According to sources in the Strip, at least eight Palestinians were killed in IDF attacks on Gaza Monday.

Meanwhile, according to the IDF, in a separate attack, the IDF hit a rocket launcher placed in a school in Gaza City.

In the afternoon, a joint IDF and Shin Bet aerial attack towards a car in Gaza City took place, the Shin Bet said in a statement. "Terrorists from the Army of Islam were traveling in the car," the statment said, adding "they were planning a terror attack in the near future." The Shin Bet further noted that group was supported and closely affialted with Hamas.

One of the three people killed in the attack was identified as Ahmed Tiseer Fahami a-Dali, 28.

Also, sources in Gaza said that the IAF aircraft attacked four homes in the town of Beit Lahiya, near the Israeli border, killing two women and a girl, witnesses and health officials said.

Locals told Reuters a member of the Hamas militant group that dominates Gaza lived in one of the dwellings.

Five other Palestinians were killed in Israeli strikes, including three men in the attack on a car, officials said.

More than 80 rockets were launched at southern Israel on Monday, causing no casualties, the army said.

Earlier, Gaza police said one of the airstrikes struck the home of Omar al-Bursh, a Hamas justice ministry official, while another damaged Gaza's border crossing with Egypt.

Al-Bursh was unharmed in the attack. There were no details on the damage to the border crossing.
Ceasefire efforts
Earlier, a senior Palestinian source told AFP that all the factions – including Hamas – were prepared to accept the Egyptian ceasefire proposal that was reported earlier on Monday, when Islamic Jihad said it agreed to the framework offered in Cairo.

Qais Abu Leila, a senior Palestinian official involved in Egyptian-mediated talks to reach a truce, said Cairo had proposed an indefinite ceasefire.

"Egyptian efforts are continuing. The ball is in the Israeli court, and they have not responded to this proposal 36 hours after it was referred to them," Abu Leila told Reuters.

Both Israel and Egypt view Hamas as a security threat and are demanding guarantees that weapons will not enter the economically-crippled territory. Israel recalled its negotiators from Cairo last Tuesday after a ceasefire collapsed.

According to the Palestinian source, Hamas has now signaled it was ready to accept the proposal.

A senior Egyptian source said that Cairo contacted Israel and the Palestinians about the new initiative.

Osama Hamdan, the man in charge of international relations for Hamas, said Monday that the diplomatic efforts to achieve ceasefire "has intensified", but there are still no definitive results.

Yoav Zitun and Reuters contributed to this report