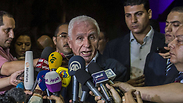 Palestinian delegation to ceasefire talks
Photo: AFP
Palestinians say ceasefire near, still waiting for Israeli response
Talks to reach Gaza ceasefire continue, Israeli official tells Ynet Israel is interested in reaching deal, but that no decision has been made yet, as Hamas begins to back track on demands: 'Important thing now is to end aggressions,' group's spokesperson says.
Palestinian and Israeli officials have confirmed Monday night that a renewed Egyptian ceasefire proposal is being discussed and that the Palestinian factions are still waiting for Israel's response, for what some claim will be a limited ceasefire deal spanning up to a month, after which additional talks will take place.
The deal was put forward by Egypt and would see an end to fighting in return for an opening of the crossings into Gaza and reconstruction of the Strip, devastated by over seven weeks of fighting with Israel.
"We can say that there are talks and that efforts have progressed more than in the past, but we have yet to receive a definitive answer from Israel. The ball is in Israel's court," Hamas spokesman Sami Abu Zuhri said.
A senior Israeli official said that Israel "has yet to make a decision. Throughout the day we rejected a number of drafts. We are in the midst of a tough negotiations, we don't want to give them any win after all that we have been through."
In what seemed to be a reversal of some of Hamas demands, namely a sea and air port for Gaza and the end of the blockade on the Strip, Abu Zuhri said that "at this point what is important is an end to aggressions, the opening of the crossings into Gaza and the rehabilitation of the Strip."
However he added that the Palestinians were willing to discuss the matter at a later date, hinting the current deal could be limited in scope and entail additional talks to reach a long term ceasefire.
Deal 'close'
Earlier, a Palestinian official said that the sides are close to announcing a ceasefire deal which would see an end to seven weeks of fighting in Gaza, and a member of the Palestinian envoy to negotiations said that, "An agreement still hasn't been reached, but a ceasefire is close." Their comments came as Egypt pressed on with efforts to broker a durable truce.
Speaking to Palestinian news agency Ma'an, an unnamed Palestinian source said that an announcement regarding a ceasefire would be announced by Monday night, but noted the deal could extend for only a month, as sides fight over details and rocket fire continues.
Meanwhile, Khaled al-Batsh, a member of the Islamic Jihad's delegation to Cairo added that the group "had agreed to accept Egypt's offer to discuss a ceasefire and we're heading in this direction.
An Israeli source close to talks told Ynet that "things are still unclear" and that Israel was still waiting for a response to a number of issues, and was downplaying the odds of a deal being reached, fearing another collapse in talks would lead to massive renewal in fire. He noted that Israel's goal was reaching a long term truce, which would promise the end to rocket fire.
"There is talk of a temporary cease-fire that would open the border crossings, to let in humanitarian aid and reconstruction materials," a Palestinian official told AFP, adding the talks would stretch into next month.
"We are willing to accept a deal, but we expect the Israeli response such this proposal," he added.
Their comments came after a senior Palestinian source told AFP that all the factions – including Hamas – were prepared to accept the Egyptian ceasefire proposal that was reported earlier on Monday, when Islamic Jihad said it agreed to the framework offered in Cairo.
According to the Palestinian source, Hamas has now signaled it was ready to accept the proposal.
A senior Egyptian source said that Cairo contacted Israel and the Palestinians about the new initiative.
Qais Abu Leila, a senior Palestinian official involved in Egyptian-mediated talks to reach a truce, said Cairo had proposed an indefinite ceasefire.
Cairo's latest initiative calls for the immediate opening of Gaza's crossings with Israel and Egypt to aid reconstruction efforts in the battered coastal strip, to be followed by talks on a longer-term easing of the blockade.
"Egyptian efforts are continuing. The ball is in the Israeli court, and they have not responded to this proposal 36 hours after it was referred to them," Abu Leila told Reuters.
Hamas has said it will not stop fighting until the Israeli-Egyptian blockade on the enclave of 1.8 million people is lifted.
Both Israel and Egypt view Hamas as a security threat and are demanding guarantees that weapons will not enter the economically-crippled territory. Israel recalled its negotiators from Cairo last Tuesday after a ceasefire collapsed.
"The plan is for a temporary ceasefire during which the border crossings will open and aid supplies to help rehabilitate the Strip would be imported," said the Palestinian source.
He emphasized that the plan postponed discussion of the divisive issues for future talks. "The matters that remain to be resolved will be deliberated in a month. We will accept the proposal, but we are waiting for an Israeli response to the offer."
Another Palestinian official said Egypt might invite Palestinian and Israeli negotiating teams to return to Cairo in 48 hours.
Egypt proposed a new initiative for an immediate ceasefire and an opening of the border crossings based on the understandings reached after Operation Pillar of Defense – with an agreement to return to negotiations within a month – according to reports from early on Monday.
Palestinian sources, including an Islamic Jihad member of the delegation in Cairo Khaled al-Batsh, said Sunday night that within a few hours Egypt would call for an immediate and ongoing ceasefire – with prior coordination from both parties.
According to the Palestinian sources, Israel would agree to a complete opening of the border crossings between Israel and Gaza for the passage of people and merchandise, allowing for the immediate start of the Strip's rehabilitation.
The Egyptian proposal includes an agreement to return to negotiations within a month to discuss difficult issues like the establishment of a seaport and an airport and the release of Palestinian security detainees.
Meanwhile, the rocket fire on southern Israel has not ceased. More than 80 rockets were fired from the Strip on Monday.
AFP and Reuters contributed to this report