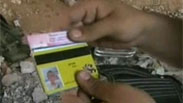 Israeli bus pass previously belonging to IDF soldier.
An Al-Jazeera reporter met Monday with members of Hamas' military wing in the Gaza Strip, the Izz ad-Din al-Qassam Brigades, for a close up look the organization's smuggling tunnels and rocket launchers. Possibly not even the reporter expected it however, when the militants showed him what they claimed were the belongings of IDF soldiers that got left behind in Gaza during the fighting.

The al-Qassam Brigade fighters produced several personal items previously belonging to IDF troops, including a wallet with multiple identification cards and even a common Israeli bus pass known as "Rav Kav".

The Hamas members had also apparently captured personal military equipment including uniforms, and a dog tag from which they read the military ID number of its previous owner.

In another part of the report, an M-75 long range rocket could be seen being launched toward Tel Aviv. In another video, a rocket can be seen being fired in front of a sign that reads: "It is forbidden to be in the area of the Gaza border by order of Mohammed Deif."