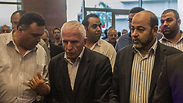 Palestinian delegation to Cairo
Photo: Reuters
Hamas and Islamic Jihad have accepted the Egyptian ceasefire proposal and are awaiting Israel's answer, Hamas official in Cairo, Mousa Abu Marzou told pan-Arab newspaper Al-Hayat on Tuesday.

"The new Egyptian document's wording is acceptable, but we're still discussing its details with the Egyptian side," Abu Marzouk said.

Egyptian sources told Palestinian news agency Ma'an on Monday that "the Palestinian factions agreed to the proposal and Egypt is expected to announce the acceptance of both parties to the ceasefire proposal tonight. Then serious negotiations will begin."

Palestinian and Israeli officials confirmed Monday night that a renewed Egyptian ceasefire proposal is being discussed and that the Palestinian factions are still waiting for Israel's response, for what some claim will be a limited ceasefire deal spanning up to a month, after which additional talks will take place.

Despite Palestinian reports, however, the Israeli cabinet was not scheduled to meet on Tuesday to discuss the Egyptian proposal.

The Egyptian offer calls for a gradual easing of restrictions on trade and movement in and out of Gaza and would give Hamas' Palestinian rival, President Mahmoud Abbas, a foothold in Gaza.

According to Ma'an, the new Egyptian proposal includes opening the Rafah border crossing, opening Gaza's border crossings with Israel to allow goods and construction materials for the reconstruction of the Strip, and expanding Gaza's fishing zone to 6 miles.

The Egyptian sources told Ma'an the proposal was presented to Israel on Monday, and that Israeli officials showed "initial acceptance."

On Monday night, US officials and diplomats from other UN member states said that Washington had presented a small group of countries with its own draft elements for a Security Council resolution demanding a ceasefire between Israel and the Palestinians in the Gaza Strip, after Jordan offered one last month and Britain, France and Germany wrote another ceasefire proposal last week.

"The US has come up with its own draft," said one UN diplomat, who declined to be named. "It's quite different from the two others. Now they're working to combine the drafts and come up with a common text."

The US officials and other diplomats declined to speak about details in the US draft, though several said it was not acceptable on its own.

"We'll work on coming up with a single draft," another UN diplomat said. "What's important is that the Americans are engaging and there's a new momentum in pushing for a ceasefire resolution in the Security Council that would be better than previous ones."

An Israeli official said "this is still under negotiation" and that there was no draft ready yet for the Security Council. Diplomats said Israel received the draft over the weekend. Egypt is also being consulted. UN diplomats said Washington and Israel appeared increasingly open to the idea of the council demanding a ceasefire.

Late Monday night Hamas spokesman Sami Abu Zuhri "We can say that there are talks and that efforts have progressed more than in the past, but we have yet to receive a definitive answer from Israel. The ball is in Israel's court," Hamas spokesman Sami Abu Zuhri said.

A senior Israeli official said that Israel "has yet to make a decision. Throughout the day we rejected a number of drafts. We are in the midst of a tough negotiations, we don't want to give them any win after all that we have been through."

In what seemed to be a reversal of some of Hamas demands, namely a sea and air port for Gaza and the end of the blockade on the Strip, Abu Zuhri said that "at this point what is important is an end to aggressions, the opening of the crossings into Gaza and the rehabilitation of the Strip."

However he added that the Palestinians were willing to discuss the matter at a later date, hinting the current deal could be limited in scope and entail additional talks to reach a long term ceasefire.

An Israeli source close to talks told Ynet that "things are still unclear" and that Israel was still waiting for a response to a number of issues, and was downplaying the odds of a deal being reached, fearing another collapse in talks would lead to massive renewal in fire. He noted that Israel's goal was reaching a long term truce, which would promise the end to rocket fire.

"There is talk of a temporary cease-fire that would open the border crossings, to let in humanitarian aid and reconstruction materials," a Palestinian official told AFP, adding the talks would stretch into next month.

"We are willing to accept a deal, but we expect the Israeli response such this proposal," he added.

Yitzhak Benhorin contributed to this report.