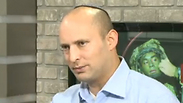 Naftali Bennett in Ynet studios.
Photo: Asi Cohen
Political rumblings began within the Israeli government Tuesday evening after a long-term ceasefire with Hamas went into effect at 7pm local time and Economy Minister Naftali Bennett called for a Cabinet vote on the decision, citing that ministers hadn't been consulted about the deal.

According to Bennett, the decision had been made exclusively by Prime Minister Benjamin Netanyahu and Cabinet members were only updated on the decision by telephone.

The Cabinet appeared to be split on the deal, with Foreign Minister Avigdor Lieberman, Interior Minister Yitzhak Aharonovich, and Economy Minister Naftali Bennett, and Communications Minister Gilad Erdan opposing the decision, and supporting further military action in Gaza.

Defense Minister Moshe Ya'alon, Justice Minister Tzipi Livni, and Finance Minister Yair Lapid all supported the ceasefire deal, but Bennett claims that a vote would have disposed of the agreement due to the opposition from the other three ministers and himself.

According to the Eygptian Foreign Ministry, the agreement includes stipulations that Israel will open its borders with Gaza for the movement of reconstruction materials and humanitarian aid, a concesion which many government ministers are against due to concerns that Hamas will use the materials to rearm.

Related stories:

Additional voices from the government came from the other side of the political aisle including Meretz Chairman Zahava Gal-On who spoke with Channel 10, saying that Hamas had emerged as the victors in a "pointless" military operation.

"The ceasefire comes too late and the terms prove that Operation Protective Edge was a strategic loss for Netanyahu who entered a war without goals, and finished by giving huge gains to Hamas on the backs of residents of the south." said Gal-On. She added that, "The grief that this pointless operation inflicted on the people of Israel was inflicted upon us by an irresponsible government."

Eshkol mayor Haim Yellin also had harsh words for Netanyahu over the ceasefire deal, though he supported military action where Gal-On did not. He said that if government officials had been spending time under rocket fire in southern Israel, they would have made a different decision all together.

The Eshkol mayor also told Channel 10 Tuesday evening that residents of the south who fled during Operation Protective Edge due to rocket fire from Gaza, shouldn't yet return home. "I don't care what they're saying in the government or what they're saying in Hamas. I will call on residents to return only when I feel that there is a true ceasefire."