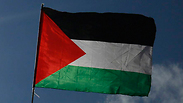 The attackers had Palestinian flags.
Photo: Reuters
A Jewish man and wife couple were attacked in New York City Monday, by assailants who shouted anti-Semitic remarks and physically assaulted the two before driving off in vehicles waving Palestinian flags, said a Tuesday report in the New York Post.

According to the report, police sources wouldn't identify the couple, but said that they lived in the neighborhood where the attack took place on East 63rd Street near Third Avenue.

The perpetratuers pulled up in cars and on motorcycles at around 8pm, police told the Post. The sources said that the attackers yelled "anti-Jewish statements" before throwing and hitting the wife with a water bottle.

Her 27-year-old husband rushed to her side, but then became a victim himself when he was punched in the side of his head by one of the assailants.

The gang of attackers then back to their vehicles and drove off. The Post reported that the hate crimes task force was investigating the incident and considered the fact that the husband wore a yarmulke, as the most likely motivation for the attack.