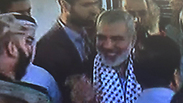 After 50 days of hiding underground, former Hamas prime minister Ismail Haniyeh took to the stage at a rally in Gaza on Wednesday, declaring that the group's victory over Israel in the IDF's Operation Defensive Edge was unprecedented.

"It is impossible to make do with words and speeches to express this victory," he said. "The victory is beyond the boundaries of time and place. This battle is a war that had no precedent in the history of the conflict with the enemy."

Haniyeh also praised the three senior Hamas commanders killed in air strikes by Israel in the final days of the fighting.

"Those whose blood was spilled and the martyrs were the fuel of this victory," he said. "Every campaign has a symbol, and (Raed) al-Attar, (Mohammed) Abu Shmallah and (Mohammed) Barhoum are the icons of this campaign."

Thousands took to the streets of Gaza City for the rally, waving the green flags of Hamas and cheering.

"The war began with fire on Haifa and finished with fire on Haifa," Haniyeh told the large crowd that had gathered in Gaza. "The Palestinians who couldn't celebrate Eid al-Fitr (the last day of Ramadan) because of the fighting and because they were on the battlefield, celebrate today the celebration of victory."

The celebrations in Gaza began Tuesday night, shortly after the ceasefire took hold. Bursts of gunfire were heard in Gaza City; men packed into vehicles, waving and flashing victory signs. Images showed Hamas official Fawzi Barhoum bneing hoisted onto the shoulders of jubilant Gazans.

On the streets of the battered, Hamas-run enclave, people headed to shops and banks Wednesday, trying to resume the normal pace of life after seven weeks of fighting. Thousands of others, who had fled the battles and sheltered with relatives or in schools, returned home, where some found only rubble.

Palestinian health officials say 2,139 people, most of them civilians, including more than 490 children, have been killed in the enclave since July 8, when Israel launched an offensive with the declared aim of ending rocket salvoes.