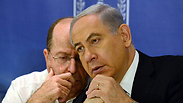 Netanyahu and Ya'alon
Photo: GPO
Hamas was "hit hard" during the 50-day Operation Protective Edge, and won few gains in the ceasefire agreement that brought it to an end on Tuesday, Prime Minister Benjamin Netanyahu said Wednesday.
Netanyahu, accompanied by Defense Minister Moshe Ya'alon and IDF Chief of Staff Benny Gantz, was speaking directly to the Israeli people for the first time since the Egyptian-brokered ceasefire came into effect, ending seven weeks of fighting in Gaza and near continuous rocket fire on Israeli communities.
The remarks were broadcast at prime time, when many Israelis are watching the on televised news.
The prime minister has come under growing criticism from members of his own Cabinet over his handling of the conflict, and for the way in which the ceasefire was agreed upon without a ministerial vote.
Both hard-liners in his governing coalition, as well as residents of rocket-scarred southern Israel, have said the war was a failure because it did not halt Hamas' rocket attacks or oust the group from power.
"Hamas was hit hard," Netanyahu said, adding that Israel "didn't agree to accept any of Hamas' demands" under the Egyptian-brokered cease-fire deal.
The ambiguous ceasefire delivered an immediate halt in the fighting and has promised an easing of Israel's blockade of Gaza to allow humanitarian aid and construction goods to enter for the rebuilding of the territory. All goods are to go in under international supervision.
But Hamas' key demands are only to be addressed in a future round of talks expected next month in Cairo. Hamas is seeking an end to the blockade, including the reopening of Gaza's sea and airport. It also wants Egypt to reopen its Rafah border crossing, the territory's main gateway to the outside world. Israel, meanwhile, wants Hamas to be disarmed.
Netanyahu said Israel would not accept any further rocket fire, and if the attacks resumed, Israel would react with even more force.
"We won't tolerate even a sprinkle of rocket fire at any part of Israel. We would respond even more vigorously than before," he said.
Israel carried out thousands of airstrikes and other attacks on Hamas targets in the war. More than 2,000 Palestinians were killed, most of them civilians, according to UN and Palestinian figures. On the Israeli side, 70 people were killed, most of them soldiers.
Israel says Hamas is responsible for the heavy Palestinian civilian death toll, noting that militants carried out attacks from residential areas and often used apartment buildings, mosques or schools for cover. The Israeli attacks destroyed or damaged thousands of buildings, leaving an estimated 100,000 people homeless.
Despite the heavy damage, Hamas also has claimed victory, saying the Israeli assault failed to stop its rocket and mortar fire. It has boasted that it forced thousands of Israelis living in border communities to evacuate their homes, and that it controlled when the people could come home.
In Gaza, masked militants gathered on the rubble of destroyed homes in the Saja'iyya neighborhood, site of some of the heaviest fighting, to declare victory. The men displayed heavy machine guns, mortar shells, rockets and anti-tank missiles. Hundreds of residents gathered around the militants, taking pictures with them and their weapons.
Abu Obeida, a spokesman for the Hamas military wing, stood over an Israeli flag as he addressed the crowd.
"Gaza achieved victory because it has done what major armies failed to do. It forced the enemy to retreat," he said. "We must know that no voice is louder than the voice of the resistance."