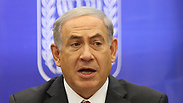 Prime Minister Benjamin Netanyahu
Prime Minister Benjamin Netanyahu's lackluster performance at Wednesday's post-Gaza ceasefire press conference with Defense Minister Moshe Ya'alon did little to avail growing criticism and anger at his leadership and at the Gaza ceasefire, which was passed without a Cabinet vote, even as rockets continued to fall on Israel.

With the Knesset's winter plenum ahead, Netanyahu will have a lot of political maneuvering to do, fending off criticism at the operation as well as navigating between a slew of divisive political, diplomatic and economic issues being put forward by top coalition members.
War and peace
A political process with the Palestinians – or a lack thereof – has and continues to be the central axis of tension within the current coalition. One the one hand, centrist parties – namely Finance Minister Yair Lapid's Yesh Atid and Justice Minister Tzipi Livni's Hatnua – have conditioned their continued membership in the government on some form of renewed negotiations with the Palestinian Authority. One the other hand, rightists from Economy Minister Naftali Bennett's HaBayit HaYehudi – as well as some in Netanyahu's Likud party and Yisrael Beiteinu – utterly reject such a process.

Only Wednesday, Bennett wrote on his Facebook page that "the fantasy of a Palestinian state went up in smoke with the tunnels in Gaza." While MK Ofer Shelah, a top MK from Lapid's party, told Ynet that Yesh Atid "would examine its future in the collation according to the prime minister's decisions on a diplomatic process" with the Palestinians, and MK Elezar Shtern from Livni's Hatnua also said the party would exit government should Netanyahu fail to renew peace talks.

This internal tension is further accented by growing international pressure on Netanyahu and Israel to reach a long term solution in Gaza as well as a peace deal with Palestinians – now run by a technocratic unity government which includes, albeit indirectly, Hamas officials and enjoys the group's backing.

Netanyahu has also yet to clear the Gaza operation hurdle, beside the threat of renewed aggressions, MK Ze'ev Elkin, himself a prominent member of the Likud and head of the Knesset Foreign Affairs and Defense Committee, has already announced he will convene the committee and grill both Netanyahu and Ya'alon on the way the operation was handled, despite the two's reluctance to address such issues publically. Lapid for his part has already promised to conduct an international summit on Gaza.
It's the economy Bibi
The political-diplomatic axis is only the most pronounced of Netanyahu's political troubles, and a number of social and economic policy issues also threaten his current regime – for example, Finance Minister Yair Lapid's proposed 0 percent VAT on apartments for young couple.

Generally, the seven week conflict in Gaza sent the Knesset's summer plenum spinning into a political-diplomat fury which de facto prevented it from dealing with anything but Gaza. However, with the winter plenum's opening in October, many of the issues postponed will have to be addressed – and each poses a serious threat to the coalition's stability.

The fighting has dealt a serious blow to Israel's economy, in addition to slowing growth, many Israelis are demanding compensation as well as answers, and the government will have to respond, not to mention selling the public an across the board 2.5 percent (NIS 1 billion) budget cut to all government offices without raising taxes or increasing the deficit beyond the 3 percent benchmark agreed on.

Next is Lapid's 0 percent VAT bill, which is supposed to lower housing prices and is Yesh Atid's flagship legislation in the social-economical arena. However, political infighting in the Knesset's Finance Committee left the bill stuck before its second and third readings.

The bill is also unpopular among some in the Knesset, who view it as a waste of money which will do little to avail the ailing middle class. Though Likud and Bayit Yehudi MKs were willing to help the bill make it through its first vote, it is far from certain they will do the same to see it put into the books for good. The battle over the bill is expected to be a preview of the much larger battle over Israel's next budget.
State and religion
Another mine for Netanyahu's coalition are issues of State and religion – which includes a number of polarizing issues such as same-sex and civilian marriages, issues relating to operating businesses on Shabbat (Saturday, the Jewish day of rest) and conversion to Judaism – all of which are likely to pit the mostly secular Yesh Atid against the Bayit Yehdu (or Jewish Home).

Foreign Minister Avigdor Lieberman's Yisrael Beiteinu, a hawkish yet mostly secular party, is also likely to lock horns with Bennett's Jewish agenda over the issue of conversion and civilian marriages, a hot topic for Lieberman's mostly Russian (former-USSR) voter base.

The coalition agreement between the Likud and Bennett's party permit it freedom to vote against the government on issues of religion – and they are expected to make good use of their right, repeatedly saying they will not accept anything that changes the legal definition of marriage – including removing it from the Rabbinate's control and creating a civilian alternative allowing civilian marriages to non-Jews or same-sex couples.