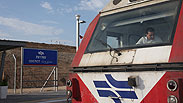 The train from Tel Aviv to Sderot
Photo: Avigail Uzi
Some two weeks after the rail service to Sderot was suspended – during Operation Protective Edge – Israel Railways renewed its operations to the southern line on Thursday. The first northbound train left at 5:23 pm according to Israel Railways' schedule.

Transportation Minister Yisrael Katz decided to resume the rail service following a reassessment conducted by the ministry's director-general and Home Front Command chief Maj. Gen. Eyal Eizenberg.

Related stories:

Since the start of Operation Protective Edge, rail service to Sderot was suspended and renewed several times, in accordance with situation appraisals from the IDF and security officials. The line was last suspended on August 17, following intensive rocket barrage on Sderot and the surrounding communities.

During the train line's down time, the Transportation Ministry reinforced the bus lines to Sderot and Israel Railways offered complimentary shuttle service between Ashkelon and Sderot to passengers.

Meanwhile, Home Front Command has updated its safety directives. According to the new directives – effective 6 pm Thursday – Israelis living up to 7 km from Gaza are still barred from gatherings of more than a 1,000 people.

However, all limitations on gatherings between 7 to 40 km have been lifted, allowing residents of Ashkelon, Ashdod, and Be'er Sheva to return to their normal way of life.

Yoav Zitun and Hillel Posek contributed to this report.