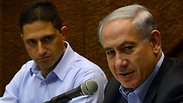 Prime Minister Benjamin Netanyahu
Photo: Haim Zach
Prime Minister Benjamin Netanyahu visited Be'er Sheva on Thursday to meet with the heads of the local authorities in southern Israel and Gaza-border communities, two days after the start of a long-term ceasefire between Israel and Hamas.

Merhavim Regional Council chief Shai Hajaj said after the meeting that the local leaders were assured the government would provide financial assistance not only to the Gaza-border area, but also to cities and towns up to 40 km from the Strip.

At the meeting, Netanyahu said that "on Sunday we will announce a very generous aid package to Gaza-border residents and later on we will also announce assistance for the entire south."

Netanyahu told the local leaders that Hamas received a harsh blow; the southern representatives told Netanyahu that they hope the government follows through on its promises to severely respond to any fire from Gaza.

The Merhavim council chief added: "I received the impression that the prime minister received positive feedback on the war's management during Operation Protective Edge. There was anger towards the cabinet ministers who dallied with the press while soldiers were fighting in the Strip."

Ashkelon mayor Itamar Shimoni boycotted the event because no concrete plan to rehabilitate the south had been presented. Shimoni said his city suffered major losses during the operation.

"In our annual budget the Ashkelon municipality had allocated for additional revenue of 150 million shekels by selling 80 property deeds – not one contractor bid on the tenders and now the project is frozen," he said.

Shimoni stressed that "it's a significant loss; these funds were allocated to developing the city, but were lost because of the operation. Who will compensate us for that?"

The mayor of the beleaguered city said "an absurd situation has been created. All over the world they are talking about the rehabilitation of Gaza, about salaries for Palestinians, about the openings of the border crossings and the transfer of cement to the Strip, but what about the rehabilitation of southern Israel?"

In a clear indictment of the Netanyahu administration, Shimoni answered the question. "No one is talking about that, and no one is doing anything either."

Shimoni criticized the administration for turning a blind eye to the needs of southern residents. "The response of the Israeli government to southern residents who have lived under fire for two months must be a wide-reaching rehabilitation of the south. We need national investment in infrastructure, to bridge the gaps, so that we may better prepare the population for the next campaign."

"Unfortunately, in this country, just the opposite is happening," he said.

Matan Tzuri contributed to this report.