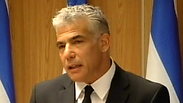 Finance Minister Yair Lapid
Photo: Nitzan Dror
The Bank of Israel warned the government on Wednesday that the budget deficit would reach at least 3.5 percent of gross domestic product in 2015 if taxes aren't raised and state spending is not reduced.

In preliminary discussions on the 2015 state budget, Finance Minister Yair Lapid met Bank of Israel Governor Karnit Flug and Prime Minister Benjamin Netanyahu on Tuesday.

Lapid proposed to raise the deficit to above 3 percent of GDP from a current 2015 target of 2.5 percent and rejected Flug's demand to raise taxes to cover a large budget hole, saying that would harm households and the economy.

Lapid also plans to include a controversial plan to exempt some first-time home buyers from paying value added tax (VAT), which is 18 percent, a move that would reduce state income by as much as 3 billion shekels ($840 million).

"You can justify a certain deviation… to about 3 percent if it stems from one-time needs to cover expenses from (the recent military) operation – if they are not fully covered in the 2014 budget – and from the impact of an apparent slowdown in (tax) revenue growth," the Bank of Israel said in response.

But under the current proposals, "a deficit of 3.5 percent of GDP is expected. This deficit level does not allow a decline in the debt-to-GDP ratio," it added.

The central bank noted that the deficit could even reach 4 percent of GDP next year without tax hikes and further spending reductions.

"Any shock on the side of activities that will lower tax collection or a deterioration in the security situation that requires additional expenses, could lead to a deficit that could grow to even higher levels," the Bank of Israel said.

It said a deviation from the deficit target would increase future interest payments and that it was seeking spending cuts of 4.5 billion shekels for next year.

Israel's 2013 budget deficit was 3.2 percent of GDP and it is expected to slightly breach this year's 3 percent target due to the war in Gaza.

After 50 days of fighting, Israel and Hamas militants in Gaza agreed to a ceasefire on Tuesday.

Fear that seven weeks of fighting will drag down the Israeli economy - already hurt by a global slowdown – led the Bank of Israel to cut interest rates on Monday for a second straight month. It reduced its benchmark rate by a quarter point to a record low of 0.25 percent.

The central bank said it would probably reduce its 2014 economic growth estimate of 2.9 percent but that a forecast of 3 percent for 2015 remains intact. It is due to publish its updated macro forecasts on Sept. 22.

Israel's debt-to-GDP ratio eased to 67.4 percent in 2013 with an ultimate goal of reaching 60 percent by the end of the decade.

Financial markets continue to express confidence in Israel's economy because of bold steps taken by the government in the past two years to shrink the deficit and debt, moves that have contributed to Israel's economic strength, the central bank said.