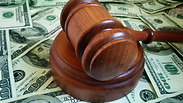 Judge suspected of tax offenses
Photo: Shutterstock
Attorney General Yehuda Weinsten has instructed police to begin investigation into information received in recent days that alleges a senior judge committed financial and sexual offenses, it was cleared for publication on Friday.

According to the claims, the judge failed to report some of his income to the tax authorities, and in this committed tax and fraud offenses.

It was also claimed that the judge committed one or several sexual offenses. According to the claims, at least some of the acts were committed years ago, so the statute of limitations may apply to them.

This preliminary investigation was not at first substantiated with hard evidence, but did include names of people with alleged ties to the case.

The judge's response to the allegations was passed on through the Courts Administration: "The claims attributed (to the judge) are completely unfounded. The source of the information these claims are based on is known to the judge. This source is a relative with unstable mental background, who chooses to besmear the judge. There is no connection between the claims and reality. The rift between the judge and the relative started when the latter was caught stealing from the judge's home, and the judge cut all ties with him. Following that he threatened to 'set the judge up.'"