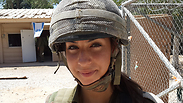 Second Lieutenant Shir Menashe
Photo: Yoav Zitun
Recents discoveries show that Hamas has made dozens of attempts to hit IDF radar and observation posts in masts and towers along the border with the Gaza Strip in order to "blind" troops in Gaza.

In the last weeks of the war Hamas made some success when it managed to set off explosives that almost toppled a large mast on which observation equipment overlooking the southern part of the Gaza Strip was placed. In another incident last week Hamas launched an anti-tank missile which hit the top part of a lookout post near Nahal Oz. In dozens of other cases they fired mortar shells at these and other observation towers.

Those who were sent each time to repair or replace the cameras and the radars hit by Hamas fire were the Gaza Division technical teams, including female soldiers and officers.

Related stories:

"Hamas militants, who were watching the border area, saw the female soldiers climb up the mast to fix the discovery tools as fast as they can while risking their lives, fired mortar shells at them," an officer from the Gaza Division told Ynet.

"This is the reason that in most cases we operate in the darkness and we also increased the amount observation equipment used to replace the ones that were hit," he added.

Technical officer Second Lieutenant Shir Menashe recounted an incident that took place last week when an observation post was hit near Nahal Oz.

"While fixing the post as fast as we could we were constantly under mortar fire. We jumped for cover and went up again and again until we finished the repair work on the broken observation equipment. The repair work can take up to two hours," said Menashe.

Menashe's colleague, technical squad commander Sergeant Meital Cohen said that, "When you are climbing up there you feel you are being watched from Gaza, so we work in complete darkness, without a flashlight or a telephone. Even though IDF forces are protecting us from every direction, on the way to the post we are prepared to encounter terrorists near the border; From time to time we practice one-on-one combat drills and close encounter combat against terrorists' squads."

Menashe and Cohen's commander, Chief NCO Baruch Elkayam said that in the past few weeks some of the radars were shifted backwards from west to east in order to track the activity on Israel's territory following the terror tunnels threat.