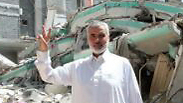 Haniyeh: Victory amid destruction.
Former Hamas prime minister in Gaza, Ismail Haniyeh, flashed the 'V' symbol for victory on Friday afternoon when he visited the ruins of his home in Gaza which was completely destroyed in Israeli airstrikes during Operation Protective Edge.

Just two days ago, after 50 days of hiding underground, Haniyeh took to the stage at a rally in Gaza, declaring that the group's victory over Israel in the IDF's Operation Defensive Edge was unprecedented.

"It is impossible to make do with words and speeches to express this victory," he said. "The victory is beyond the boundaries of time and place. This battle is a war that had no precedent in the history of the conflict with the enemy."

Haniyeh at a Gaza rally celebrating victory.

Despite his claims of victory however, Haniyeh wasn't the only Hamas official to suffer the loss of his home during the IDF's military operation.

Related stories:

Police in Gaza said on Monday that an IAF airstrike had struck the home of Omar al-Bursh, a Hamas justice ministry official. Other Hamas leaders even lost their lives and the IDF started carrying out a policy of targeted killing in the Gaza Strip. Israel even made an attempt on the life of military commander Mohammed Deif, though it is still unclear if the leader had in fact been killed in the strike.

Meanwhile, Palestinian President Mahmoud Abbas slammed Hamas' behavior during both IDF Operations Protective Edge and Brother's Keeper in a TV interview Tuesday night.

During the interview, Abbas admitted that there was no difference between the Egyptian initiative introduced at the beginning of the operation and the proposal accepted at its end, 50 days later.

He said the Palestinian Authority requested the Egyptian initiative, which centered on an end to the killing of civilians, according to Abbas, and the reimplementation of the understandings reached in Pillar of Defense.

Abbas hinted that the entity responsible for the suffering of the Palestinians was Hamas, whose stubbornness did not benefit the process.