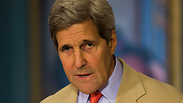 World must come together to combat ISIS. US Secretary of State John Kerry
Photo: EPA
US Secretary of State John Kerry called on Friday for the world to come together in a global coalition to defeat the Islamic State in Iraq and Syria.

In an opinion article for the New York Times, Kerry explained that ISIS terrorists pose a threat to countries outside the Middle East, including the US. "With a united response led by the United States and the broadest possible coalition of nations, the cancer of ISIS will not be allowed to spread to other countries. The world can confront this scourge, and ultimately defeat it," Kerry wrote.
"There is evidence that these extremists, if left unchecked, will not be satisfied at stopping with Syria and Iraq. They are larger and better funded in this new incarnation, using pirated oil, kidnapping and extortion to finance operations in Syria and Iraq.
"They are equipped with sophisticated heavy weapons looted from the battlefield. They have already demonstrated the ability to seize and hold more territory than any other terrorist organization, in a strategic region that borders Jordan, Lebanon and Turkey and is perilously close to Israel," he added.
Related stories:
The US Secretary of State stressed that a global coalition led by the US would not let the 'cancer' spread. "We have proof already in northern Iraq, where United States airstrikes have shifted the momentum of the fight, providing space for Iraqi and Kurdish forces to go on the offensive. With our support, Iraqi leaders are coming together to form a new, inclusive government that is essential to isolating ISIS and securing the support of all of Iraq's communities."
Kerry further wrote that President Barack Obama "will lead a summit meeting of the Security Council to put forward a plan" for combating ISIS.
"Airstrikes alone won't defeat this enemy," the US Secretary of State noted, adding that "a much fuller response is demanded from the world. We need to support Iraqi forces and the moderate Syrian opposition, who are facing ISIS on the front lines…And we need to strengthen our own defenses and cooperation in protecting our people."
The senior US official said that following the NATO summit, he and US Secretary of Defense Chuck Hagel would "meet with our counterparts from our European allies. The goal is to enlist the broadest possible assistance.
"Mr. Hagel and I plan to travel to the Middle East to develop more support for the coalition among the countries that are most directly threatened."