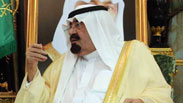 Saudi Arabia's King Abdullah
Photo: AP
King Abdullah of Saudi Arabia has warned that Western countries will be the next target of the radical jihadists sweeping through Syria and Iraq, unless there is "rapid" action to curb their growth.

"If we ignore them, I am sure they will reach Europe in a month and America in another month," he said in remarks quoted on Saturday by Asharq al-Awsat daily and Saudi-backed Al-Arabiya television station.

Speaking at a welcoming ceremony on Friday for new ambassadors – including a new envoy from Saudi ally the United States – King Abdullah warned of the threat posed by a resurgent terror movements: "Terrorism knows no border and its danger could affect several countries outside the Middle East."

The world's top oil exporter shares a 500-mile border with Iraq, where Islamic State militants and other Sunni Islamist groups have seized towns and cities.

Lack of action would be "unacceptable" in the face of the phenomenon, King Abdullah said.

"You see how they (jihadists) carry out beheadings and make children show the severed heads in the street," he said, condemning the "cruelty" of such acts.

"It is no secret to you, what they have done and what they have yet to do. I ask you to transmit this message to your leaders: 'Fight terrorism with force, reason and (necessary) speed'."

Riyadh has long expressed fears of being targeted by jihadists, including some of its own citizens, who have taken part in conflicts in Iraq and Syria. Earlier this year, it decreed long jail terms for those who travel abroad to fight.

Also on Friday, US Secretary of State John Kerry called for the world to come together in a global coalition to defeat the Islamic State in Iraq and Syria.

 

"With a united response led by the United States and the broadest possible coalition of nations, the cancer of ISIS will not be allowed to spread to other countries. The world can confront this scourge, and ultimately defeat it," Kerry wrote in an opinion article for the New York Times.

The top US diplomat warned that the latest incarnation of Islamic extremism was larger and better funded. "They are equipped with sophisticated heavy weapons looted from the battlefield. They have already demonstrated the ability to seize and hold more territory than any other terrorist organization, in a strategic region that borders Jordan, Lebanon and Turkey and is perilously close to Israel."

Britain raised its terrorism alert on Friday and Prime Minister David Cameron said Islamic State posed the greatest ever security risk to the country.

AFP and Reuters contributed to this report.