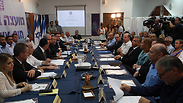 ישיבת ממשלה ב עוטף עזה חוף אשקלון לקראת פתיחת שנת הלימודים בנימין נתניהו
Photo: Eliyahu Hershkovich
Israel's cabinet voted Sunday in favor of 2 percent budget cut, across all government ministries, to fund a special aid package to Israel's south - a package that would only cover areas within seven kilometers of the Gaza Border, angering local leaders.

The vote came after Prime Minister Benjamin Netanyahu's call for massive budget cuts to pay for the 50 day military campaign in Gaza and was supported by a small majority of ministers, with three abstaining and two - Environmental Protection Minister Amir Peretz and Housing Minister Uri Ariel – voting against.

Netanyahu, Defense Minister Moshe Ya'alon and Finance Minister Yair Lapid are seeking cuts of two percent from every government ministry - other than defense - to raise about 2 billion shekels (roughly $561 million, 425 million euros).

Minister Silvan Shalom initially voted against the cut, but changed his mind and abstained, joining Economy Minister Naftali Bennett and Pensions Affairs Minister Uri Orbach.




According to documents released by the cabinet office ahead of Sunday's weekly meeting the biggest proposed cut is to the education ministry, which is being asked to give up 4.8 billion shekels.

Welfare and social services are being asked for 62.6 million and health spending is to be trimmed by 43 million.

Welfare Minister Meir Cohen protested, saying there was no more fat on his budget to trim.

"From whom will we take? From those who have nothing to put in their children's sandwiches for school?" he said on Army Radio.

Netanyahu's own office, which is responsible for the domestic and foreign intelligence agencies, the Atomic Energy Commission and other departments, is to lose 33 million.

The foreign ministry, long bedeviled by dwindling budget allocations and rocked earlier this year by a strike of senior diplomats and a lockout of the foreign minister from his Jerusalem office, needs to trim 11.9 million.

The original 2014 budget was itself an austerity package which Lapid said was essential for the country's economic health. It was to have cut 3.0 billion shekels from defense spending but after hard lobbying from Ya'alon 2.75 billion shekels were reinstated.

Lapid warned at the time that if defense spending were not reined in the axe would fall on health, education and social spending.
Economic aid package
The planned seven kilometer limit on grants to the south would leave several hard-hit areas out of the aid package, including Ashkelon, Ashdod, Be'er Sheva, and several smaller towns who's leaders are convinced that the government should provide a more inclusive financial reconstruction package to the south.

"It's inconceivable that the hardest hit city in Israel won't get even a shekel of aid from the State," said Ashkelon mayor Itamar Shimoni before Sunday's cabinet meeting.

Only the areas closest to the Gaza border would receive reconstruction funding as part of the deal including towns in the Eshkol, Sha'ar HaNegev, Sdot Negev, and Hof Ashkelon Regional Councils.

Lapid and Netanyahu played no part in the decision of which areas to include in the deal, but the prime minister's office said in a statement Saturday that in addition to the NIS 1.5 billion to be provided over the next five years, "A long-term plan of socio-economic development for all southern communities will be paid in the coming days."

"Southern authorities, including Ashkelon, have already begun to receive reimbursement for damages caused during the operation," said the statement.

Among other things, equipment sent to southern authorities will be upgraded in order to improve their capabilities during emergency operations such as rescue operations, first aid, and fire-fighting. The government is also set to invest NIS 16 million to plant forests for security purposes.

Southern authorities already received tens of millions of aid at the beginning of the operation.

Ashkelon Mayor Shimoni sharply criticized the NIS 1.5 billion plan saying that, "The government must stand behind its obligations and behind the words spoken to us over the last few weeks. If they really want to help Ashkelon, they should give us a top national priority status that will help us build a high-tech park and industrial park."

"This is the real mutual responsibility that we expect to receive from the government," said Shimoni. "The moment of truth has arrived. This is the moment to prove to us that all the promises made to us in the last few weeks are covered."

Ashdod Mayor Yehiel Lasri said Saturday that the operation in Gaza had heavy financial significance in the local municipality, which was presented to the prime minister as well as the cabinet.

"To my surprise, the plan doesn't include the required aid for towns within 40 kilometers (of Gaza), especially Ashdod and Ashkelon which suffered the most from rocket fire," said Lasri.

The mayor stressed that more rockets were fired on Ashdod than anywhere else during the operation, and that the city also suffered the most damage from rocket fire. More than 50% of the homes damaged in Israel were located in Ashdod.

"This is a terrible message from the government to the residents of Ashdod and the cities of the south. I really hope that this is just a mistake that will be corrected tomorrow (Sunday) in the government's decision. Otherwise, we won't ignore it. We will begin an uncompromising struggle in which we will need your support and your help, dear residents."

In the Bnei Shimon Regional Council, officials say that protected structures are in short supply, particularly in schools and other educational facilities. Bnei Shimon Mayor Sigal Moran said, "We want the towns surrounding Gaza to get everything they deserve and more, but it should be remembered that we were also off for two months."

Roni Zinger writes for Calcalist

AFP, Matan Tzuri, Ilana Curiel and Gilad Morag contributed to this report