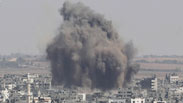 Smoke rises in Gaza City after an Israeli airstrike during Operation Protective Edge
Photo: Reuters
"Every time I reach the Erez crossing into Gaza, the soldiers look at me in amazement. They ask me every time, why? Are you crazy that you're going into Gaza? Is it so bad here in Israel? It's a regular ritual."
Rania (a pseudonym) lives a double life. She was born in Israel, but lives in the Gaza Strip. And she is not the only one: According to the records, 435 Israelis, one third of them minors, are living in the Gaza Strip, and almost all of them got stuck there during Operation Protective Edge, in real mortal danger.
Rania is 45 years old. In the early 90s she met A., a young Gazan man who worked for years in one of the cities in central Israel. They got married and Rania relocated to Gaza. It was in the pre-Oslo Israeli-rule days, and her geographical separation from her family was easily resolved by car or public transport.
But since then, much water has flowed past Gaza's shores and the situation has changed radically. Initially, there were the Oslo Accords, then the outbreak of Al-Aqsa Intifada, then the disengagement, and finally the Hamas coup in Gaza. All of these events turned the lives of Rania and other Israeli citizens living in the Gaza Strip upside down. They became prisoners.
"The last two months have been a nightmare," says Hada (a pseudonym), an Israeli citizen who is married to a local Gaza man.
"On the one hand Israel was bombing and there was no safe place, and on the other hand, Hamas could have killed me, because we are against them. Every day I prayed for it to end and we would be able to get out alive. Now I want to get away, to find refuge in another country and never come back."
Dangerous connection
Since Hamas took over the Gaza Strip in 2007, Israelis have not been allowed to enter. Israeli citizens - most of them Muslims of course, but also Jews who converted to Islam and who married residents of Gaza, have not been allowed to live together as a family in the State of Israel.
Beyond these 435 Israelis, there are probably many more Israelis who have family ties in the Gaza Strip but have not reported it. For those known to the authorities there a special procedure has been invented - "divided families."
According to this process, Israeli citizens are granted a permit to enter and stay in the Gaza Strip on condition that they renew it every six months, otherwise their stay in the Gaza Strip will be considered illegal.
These Israelis have the right to enter Israel as they wish, but the problem is that their family members are not allowed to enter Israel from Gaza to visit them, unless for a humanitarian cause, such as when an immediate family member is getting married, in very bad health or has died.
The Gisha organization, which handles all dealings relating to the crossings, says that many Israelis who leave the Gaza Strip encounter bureaucratic problems when they want to return. In extreme cases, they are not allowed to return home for security reasons.
'Every time I reach the Erez crossing, the soldiers look at me in amazement.' (Photo: AFP)
At the moment, the High Court is dealing with an appeal by V., a 62-year-old Israeli citizen, who moved to the Gaza Strip in 1987. V. is used to visiting relatives in Israel every few months. But in May of this year, she entered Israel, and when she asked to return to Gaza she was told that "due to security reasons" she was not allowed to reenter the Strip.
Family ties between Gaza residents and Israeli Arabs are often strange cases. For example, some of the sisters of Ismail Haniyeh, the deputy head of Hamas's political bureau and until recently the head of the Hamas government in Gaza, are Israeli citizens due to their marriages to Bedouin men from the town of Tel Sheva in the Negev.
After the end of Operation Pillar of Defense in 2012, two of them (Sabah and Layla) went to Sinai via Taba, and then entered the Gaza Strip through the Rafah crossing. They asked to enter Gaza to visit their families, as well as Haniyeh himself, who was at that time the head of the Hamas government in the Gaza Strip. When they returned to Israel, the two were questioned and charges were filed against them by the Southern District Prosecutor's Office.
"Life in Gaza as Israelis is fine," says Rania. "There are many people in our situation and no one looks askance at us because we are Israelis. I have a sister who is married to a Gazan and who lives there, my aunt lives there and even someone from my childhood neighborhood in Israel now lives in the Gaza Strip. Lots of Israelis live there."
Nonetheless, she says, given the difficult conditions in Gaza in recent years, her neighbors do not understand why she prefers to stay.
"I live in the central Gaza Strip," she says. "People look at me in amazement there and tell me there's a better life in Israel. Here there's no work, no food, nothing. If I had my own house in Israel, I would go back with my two children, but in the current situation I cannot support them there."
'Here there's no work, no food, nothing' (Photo: MCT)
Due to her economic difficulties, Rania has found an interim solution. Every year when school ends, she comes to her family in Israel with her two sons. She works in a factory in Israel over the summer, and returns with the children to the Gaza Strip in early September. Her salary in Israel keeps her family in Gaza going for months.
This year, as luck would have it, this arrangement saved her. "During the war I was here with the kids. My husband, who has no permit to enter Israel, remained in the Gaza Strip," she says.
"I was very scared. I was in touch with him all the time, and he would tell me about the planes hovering above the Strip and the many explosions. My children were terrified. He tried to calm them down and reassure them he was all right. Thank God, it is over."
Direct hit
Rania was lucky to have been in Israel when the military operation began, but other Israeli citizens living in the Gaza Strip were forced to stay there for the entire duration of the conflict, despite their desire to escape.
During the operation, Gisha contacted the interior minister with a request to allow Israeli citizens to leave the Gaza Strip along with their underage children, who are considered Israeli citizens even if they do not appear in the Israeli Population Registry.
During the fighting, three sisters, Israeli citizens living in the Gaza Strip, sought to enter Israel with their 11 children. One of the sisters, Iman (a pseudonym), was born in northern Israel in 1979.
She moved to Gaza with her little sisters because their father was a resident of the Gaza Strip and their mother an Israeli citizen. "In those days everything was open so it was not a big deal to move there," she says from her home in the southern Gaza Strip.
The situation changed in 2005, and the last two months have been a nightmare for Iman and her sisters. "We live in the southern Gaza Strip, in an area very badly damaged during the fighting," she says. "The houses next to mine were destroyed, and my house was damaged as a result of the bombing.
"For the past month we have lived in fear and dread; it was the hardest on my children, who were too frightened to sleep alone at night."
Iman could have taken advantage of her citizenship and left Gaza during the fighting, with one of her children who has received Israeli citizenship, but she chose to stay.
"I could not leave my children and my husband behind and go," she says about the impossible reality. "I feel torn - I'm an Israeli and a Palestinian. I live in the Gaza Strip because of my husband. I would go to Israel if I could, but he can't get a permit to move and so the only option is to stay in the Gaza Strip. We have no other choice."
A year ago, Iman and her sisters began the process of registering nine of their 11 children in Israel. Two of them had already received Israeli passports. Iman claims that Interior Ministry officials have delayed the applications on various pretexts.
One of these excuses, she says, is that the children have to go to Israel for the purpose of registration, but according to Israeli policy only children younger than six years can accompany their parents when they cross from Gaza to Israel. Thus the older children could not enter.
"I would like the children to receive citizenship," she says, "so they could come and go without problems, they would be able to visit their family and also be able to travel abroad more freely."
In previous years the situation was easier, and some of the families asked to move to Israel through family unification. Among them was Hiba (not her real name), who is married to a Palestinian from the Gaza Strip.
"Twenty years ago we were granted family reunification. My husband received an Israeli ID card, and since then we have lived here in one of the cities in the center of the country."
She says that life is more comfortable in Israel, but her husband is forbidden to visit his family in Gaza, unless he proves that a family member has a serious medical condition and he wants to visit him.
"We moved here for economic reasons. It is much easier to earn a living in Israel than in the Gaza Strip."
The Gisha organization says: "Israel creates arbitrary difficulties for its citizens living in Gaza, which do not always adhere to the letter of the law.
Like most travel restrictions that Israel imposes on every Palestinian who seeks to go in and out of Gaza, the motive is security. Collective treatment is not valid, and, as we learned from the events of the summer, nor is it in any way effective."
The Gazan school year is scheduled to start this week, and Rania and her children are still in Israel because the Erez crossing was closed to traffic throughout the operation.
She is waiting and hoping that the crossing will be opened in the coming days, and she will be able to return to her husband and her home - until next year, when she will return again.
The Gaza Strip, it goes without saying, will look completely different to what she knew when she left in the early summer.