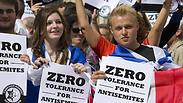 Protesting anti-Semitism
Photo: AFP
Some 3,500 civilians took to the streets of London on Sunday, protesting what they say are increasing anti-Semitic sentiments in the British Isles, particularly since Operation Protective Edge in the Gaza Strip, reported the International Business Times.

The Campaign Against Anti-Semitism (CAAS) released a statement online in light of the planned protest, saying, "Unless we act now to force the issue, anti-Semites will continue to go unpunished and the nature of British society will change. We must unite to turn the tide."

The IBT report said that while it was police who put the crowd at 3,500 gathered at the Royal Courts of Justice, eyewitnesses put that figure at 4,500 attendees.

Related stories:

"British Jews are afraid," said the CAAS statement. "Citizens are looking to the police and government to enforce the law with zero-tolerance against anti-Semites, as they do in other cases of racism."

A report from the Community Security Trust suggested recently that ant-Semitism in the UK was nearly at its worst in history, with 240 incidents noted in July, but didn't comment on police handling of such crimes.

According to the IBT, a number of public figures joined the protesters including political activist and former editor of Searchlight magazine Gerry Gable who said, "Anti-Semitism is like a cancer, it must be stopped."

Johnathan Sacerdoti, a CAAS spokesperson said that, "It is only through zero-tolerance that the tide of anti-Semitism can be turned. This demand is backed by the full spectrum of Jewish organizations."

The report said that religious diversity was also represented at the protest when Chief Rabbi Ephraim Mirvis and Maajid Nawaz, a Muslim activist and founder of an anti-extremist think tank, addressed the crowd together.