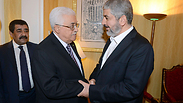 Abbas and Mashal
Photo: Reuters
WEST BANK – As support for the Islamist Hamas movement soars in both the Gaza Strip and the West Bank, members of the rival Fatah movement charge they have been harassed, beaten, and in some cases, even killed by members Hamas.
The allegations could threaten a unity government between Hamas and Fatah that was inaugurated in June to heal the longstanding rifts between the two factions.
A Fatah government employee who nominally works for the Palestinian Authority (PA) in Ramallah but lives in Gaza spoke on condition of anonymity saying that he feared Hamas would attack his family.
He told The Media Line that he was one of dozens of Fatah members who was mistreated by Hamas during the recent fighting between Israel and Hamas.
He said Hamas gunmen threatened to kill him several times for participating in activities run by Fatah, whose leader is Palestinian Authority President Mahmoud Abbas.
The government employee claimed that "thousands" of Fatah supporters have been attacked physically or verbally since then.
About 100,000 Gaza residents officially work for the PA in Ramallah and continue to receive salaries, although they are not able to fulfill their duties.
The man said that just before the Israeli assault on Gaza, Hamas did not allow him to leave the densely populated Gaza Strip.
Still, he said he considers himself to be a lucky man. On July 25, his friend was shopping with his children when masked men "shot and killed him in cold blood," the Fatah official said, adding he is convinced the murderers were members of Hamas because they had threatened to kill the man, a fellow member of Fatah, a number of times.
The Fatah government employee said that at least 30 Fatah members were abused by Hamas during the fighting with Israel. Dozens of Fatah supporters were placed under house arrest. Several were shot in the leg. There have also been reports that some of the more than 25 Palestinians killed during the recent fighting as collaborators with Israel may have been members of Fatah, not collaborators.
"Hamas acted in the same barbaric way in 2009 and 2012 without ever giving any reasons," the man said, referring to two previous conflicts with Israel. "Nobody can forget the Fatah blood they spilled after their 2007 coup d'etat."
In June, 2007, Hamas took over Gaza and fought with Fatah supporters. The International Committee of the Red Cross said at least 118 Palestinians, most of them Fatah supporters, were killed, and 550 wounded. Since then, Palestinian President Mahmoud Abbas has not visited Gaza, fearing for his safety.
"They are just closed minded, unethical racist people who discriminate against non-Hamas people," the Fatah source said. "Hamas supporters believe God has chosen them to be a negotiator on his behalf."
Hamas officials vehemently deny all of these allegations.
"You only have to look on the ground to see that we are having meetings, whether it is in Doha between (Hamas official) Abu Walid (Khaled Mashal) and Abu Mazen (Mahmoud Abbas), Cairo or Gaza," Hamas spokesman Fawzi Barhoum told The Media Line. "What is official is the respect between us, the positive position, the understanding to work for the benefit of all Palestinian people."
But Fatah officials say that the cease-fire between Israel and Hamas is a good opportunity to mend the ties between the two movements.
"Some mistakes were committed during the war that are not compatible with the reconciliation we have with Hamas," Fatah spokesman Abdullah Abdullah told The Media Line. "We are telling them that these things have to stop if we are to continue working together as partners and respect this partnership."
Abdullah said that political detainees from Fatah were not allowed to leave prison during the war and others were placed under house arrest.
"This was dangerous because the jails were potential targets for the Israeli war planes," he said.
He also accuses Hamas of "mishandling humanitarian aid," meaning keeping it for themselves instead of distributing it to the poor in Gaza.
Barhoum says that Abdullah is simply lying.
"Hamas did not do any of what it has been accused of during the war. We have no involvement in what is being said about it," Barhom insisted. "Hamas has always held the highest regard for Fatah."
He also denied that Hamas ever opened fire at Fatah during the war and challenged Fatah to come forward with names of those men Hamas allegedly killed.
"Many times, we asked for their names and until now they have not told us who these people are," said Barhoum. "There are some in Fatah who want to create barriers between Hamas and Fatah and so they come up with baseless accusations which benefit neither side."
The Fatah source living in Gaza challenged Hamas to conduct an investigation into their treatment of Fatah during the fighting with Israel.
"Why have they prevented the press from covering some areas in Gaza?" he asked. "Hamas should treat people better, not humiliate or hurt them."
Palestinian political analyst Abdelmajeed Sweilem said he expects to see more tensions between Hamas and Fatah, because Hamas has realized that it will have to relinquish some of its control in Gaza.
"We have yet to see real unity," he said.
He also told The Media Line that Hamas is more interested in "congratulating each other over a victory than fulfilling its obligations and responsibilities towards the unity government but namely the people."
A Palestinian delegation from all factions is scheduled to go to Cairo in the upcoming weeks for talks on outstanding issues such as a seaport in Gaza. Kais Abdelkarim, one of the five negotiators, and a member of the small Democratic Front for the Liberation of Palestine, said he believes the rift between Fatah and Hamas is temporary.
"We are in contact with both sides. We are doing our best to contain it," he said. Abu Leila, as he is known among Palestinians, said reconciliation is not in trouble because "both Hamas and Fatah are holding on to unity of the Palestinian delegation for the negotiations."
Article written by Abdullah H. Erakat
Reprinted with permission from The Media Line