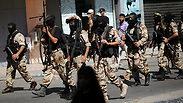 Palestinian militants take part in military show in Gaza
Photo: EPA
A senior army intelligence official has admitted that Israel underestimated the tenacity of Gaza militants and did not expect a 50-day conflict to last so long, but he insisted they were soundly beaten.
The conflict, which ended with a ceasefire last week, killed more than 2,100 Palestinians, as well as 66 soldiers and six civilians on the Israeli side, in the bloodiest battle between the Jewish state and Gaza militants for years.
"If you'd asked me two months ago, I wouldn't assess that it's going to take us 50 days," the official told journalists in English at a briefing in Tel Aviv late Tuesday.
"We thought it's going to take them a shorter time to understand what happened, and we are mistaken here. It's a tactical assessment mistake, but it's a mistake," said the official, speaking on condition of anonymity.
He said the training of some Hamas militants had impressed him, but that there were no "surprises" for Israeli forces.
"They were in pretty good shape and pretty well trained," he said of amphibious commando-style raids by Hamas militants on Israeli shores.
"You can see for sure they were trained outside of the Gaza Strip," the official said, but added "we haven't seen anything that has surprised us" militarily.
But the official said Hamas, the main power in Gaza, and Islamic Jihad, the next biggest militant group, were soundly beaten.
"We think they are in very bad shape," he said, pointing out that two-thirds of the militants' rocket stores had been wiped out and several hundred of them killed.
Hamas and Israel agreed an Egyptian-mediated ceasefire on August 26, with both sides hailing it as a victory.
The UN says some 70 percent of Palestinian fatalities were civilians. Israel's army says it killed more than 616 militants, out of some 16,000 Hamas, 5,000 Islamic Jihad and 5,000 other fighters reportedly based in Gaza.