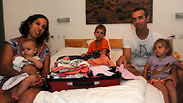 Meirovitch family preparing to return to Kibbutz Nahal Oz
Photo: Haim Hornstein
Residents returning to Nahal Oz: We are not the same people
After kibbutz suffers the greatest trauma in the history of the western Negev, some families considering to call it quits. Heads of Kibbutz Nahal Oz and Sha'ar HaNegev Regional Council working to stop mass desertion by trying to convince them to stay.
Dozens of families from Kibbutz Nahal Oz will be returning to their homes Thursday afternoon after leaving them during the final days of Operation Protective Edge, and especially after four-year-old Daniel Tregerman was killed in a mortar hit. After spending the past few weeks in Kibbutz Urim in the Northern Negev, they are now hoping to turn over to a new page in their lives.

On Wednesday, some 30 families gathered in Kibbutz Urim's dining room for a modest farewell party."You have just been through the most difficult period in the history of the western Negev," said Kibbitz Urim's senior residents.

After packing their belongings, most of Nahal Oz residents are expected to arrive at the kibbutz during the afternoon and evening hours. On Thursday morning they will still send their children to Urim's schools and kindergartens, during which they will drive to Nahal Oz and prepare for their return.

Nahal Oz, as well as other communities near the Gaza Strip border, has become the symbol of Operation Protective Edge after it sustained nonstop mortar fire from the first day of the operation until the official ceasefire seven weeks later. The kibbutz's darkest hour was on Friday two weeks ago when toddler Daniel Tregerman was killed, in what became the biggest trauma Nahal Oz suffered since its establishment.

Meanwhile, there are families who have been expressing their will to leave the kibbutz for good because of the lack of a permanent solution to the threat of mortar shell fire. Heads of the kibbutz and the Sha'ar HaNegev Regional Council are holding talks with them in an attempt to prevent a mass desertion.

Yankale Cohen, 79, one of the founders of Nahal Oz, believes that such a desertion can be prevented if the government works to strengthen the kibbutz, and not just with military means.

"We have been through the most difficult time in the history of Nahal Oz ... but at the same time we must gather our strength and deal with the hardships. We need to bring back the faith that was lost. Experience has taught us that promises are easily made, but are rarely delivered," said Cohen.

"Despite the difficult situation, we are fighting for our home and we need to ensure the continuance of its growth, that was halted. Extraordinary steps are needed. Everyone who left during that time, and it's a good thing they did, need to think of the future and believe we can return to the quiet life we once had," added Cohen

Cohen explained that "Kibuutz Nahal Oz is in need of help and support to safeguard it; otherwise we are looking at a dangerous crisis in the Gaza border communities that would endanger the future of the country. Generally, it is important for the government to know that one cannot solve this conflict solely by force. There must be a diplomatic breakthrough otherwise we will find ourselves facing yet another military campaign."
We are not the same people
Nahal Oz's educational systems will likely resume activities early next week, which will allow the young families to return to their everyday lives.

Roni and Barry Meirovitch left two weeks ago with their children: five-years-old Or, three-years-old Inbar and six-months-old Shir. On Thursday, they finally are coming home. Their oldest son Or was Daniel Tregerman's best friend at the Savion pre-school. He knows Daniel was killed and won't stop asking about him.

Meanwhile, Roni is trying to be optimistic. "We have been waiting for this day for a long time and it feels good to finally come home. I hope the government keeps its promise to protect us," she said.

Zohar Lahav thanked Kibbutz Urim for their hospitality: "Before we return to our homes I would like to say thank you from the bottom of our hearts. There are no words to express what you have given us. You reached out to us and opened your hearts, providing us with a place to rest, relax and get stronger. You let our wounds heal."

Yinon Ben David summarized the tumultuous period, saying, "I left my home in Nahal Oz, that suffered major hits by mortar shells, but was since renovated. We will probably meet in the next round of rockets, because I don't think this is over and I am intrigued to know where the wind blows".

"Unfortunately there are those who decided to leave the kibbutz, but thankfully there are new comers, which amazes us all. We are not the same people we were before the operation, but we'll know how to pull through," he added