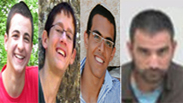 Hossam Hassan Kawasmeh (right) and the three slain teens
Hossam Hassan Kawasmeh, who was arrested in July over his involvement in the kidnapping of the three slain Israeli teens, procured NIS 220,000 to fund the abduction, it was revealed Thursday when new details on the terror attack were cleared for publication.

Kawasmeh, who served as a commanding officer for the kidnappers Marwan Kawasmeh and Amar Abu-Eisha, admitted in his investigation to his involvement in the abduction.

He said he used the money to purchase the car used in the abduction, that was later found burned near Dura, and the escape vehicle that was later abandoned in Hebron.

The money was also used to acquire weapons - two rifles and two handguns - given to Marwan Kawasmeh prior to the kidnapping.

Following the kidnapping, Marwan Kawasmeh met with Hossam and the two went to the place where the bodies were dumped. They took the teens' bodies to a plot of land Hossam purchased several months prior and buried them there.

Hossam then helped Marwan Kawasmeh and Amar Abu-Eisha, who waited in Hebron while the bodies were moved, to go into hiding.

Related stories:

After the bodies of Gil-Ad Shaer, Eyal Yifrach and Naftali Frenekl were found on his lands, Hossam Kawasmeh was wanted for questioning over his involvement in the abduction and murder.

He planned to escape to Jordan using fake documentation with the aid of his family members in Hebron - Hisham Kawasmeh, 35, Jamil Kawasmeh, 38, and Hamas operative Hassan Kawasmeh, 45.

Kawasmeh was arrested on July 11 in his hiding place in the Shuafat refugee camp in a joint operation of the IDF and Shin Bet.

Hossam Kawasmeh, 40, served time in Israeli jail from 1995 to 2002 for his terror activity in Hamas. Among other things, Kawasmeh was a part of a cell that committed terror bombings. Some of his family members were also involved in major Hamas terror bombings. His brother, Hassin Kawasmeh, is serving a life sentence for his part in a bombing near the International Convention Center in Jerusalem in March 2011 that claimed the life of a British tourist and left dozens of others wounded.

In his investigation, Hossam implicated several other suspects that were later arrested and confessed to their involvement.

Hossam Kawasmeh procured the money with the aid of his brother Mahmoud Kawasmeh, who was released in the Shalit prisoner exchange deal. Mahmoud was sentenced to 20 years for his role in the double suicide attack in Be'er Sheva in August 2004 that claimed the lives of 16 Israelis. Following his release, Mahmoud was banished to the Gaza Strip in November of 2011.

The vehicles were purchased with the aid of Hebron resident Nuh Abu-Eisha, while the arms were bought from Hamas operative Adnan Mahmad Izzat Zru, 34, also from Hebron.

Before the attack, Marwan Kawasmeh turned to Ahmad Ibrahim Mahmad Kawasmeh, 64, from Hebron, asking him to help hide him and Abu-Eisha after the kidnapping. Ahmad referred Marwan to his brother, senior Hamas operative Arafat Ibrahim Mahmad Kawasmeh, 50, also from Hebron, who hid the two in lands he owns.

The two brothers were arrested and admitted to their involvement in their investigation.

The suspects' files have now been transferred to the Judea and Samaria military prosecution in order to indict them.