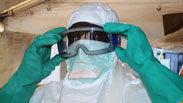 Ebola may have reached Israel.
Photo: AFP
Doctors at the Shaare Zedek Medical Center in Jerusalem hospitalized a Nigerian woman in isolation Friday afternoon, in fear that she may represent the first case of Ebola to reach Israel.

The patient works in Nigeria's health services in Nigeria, located in western Africa where an Ebola outbreak has killed nearly 2,000 people, and admitted herself to the hospital with a high fever.

It was decided to isolate the woman and fear of her suffering from Ebola arose from the consideration that she has constant contact with sick patients in Nigeria, where several cases of the deadly disease have been confirmed.

"It is possible that she is suffering from another viral complaint, but we are taking every precaution while we determine whether this could be Ebola," the spokeswoman said, adding that test results were expected by Saturday.

The woman arrived in Israel as a tourist on Wednesday.

Related stories:

Since the break-out of Ebola in western Africa, the Health Ministry has taken several steps in preparation for the possibility of the disease arriving in the Middle East and Israel.

Doctors are required to immediately report any suspicion that a patient may be suffering from Ebola. The symptoms of anyone arriving from the affected African countries are also being passed onto health officials.

Health workers have been told to have as little contact as possible with suspected Ebola patients, and to wear full protective gear when entering the patient's isolated area.

Reuters contributed to this report.