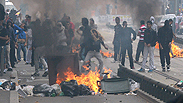 Pro-Palestinian protests in France.
Photo: AFP
More Jews have left France for Israel so far this year than from any other country, a leading Jewish group said on Friday, blaming a "climate of anti-Semitism."

"France is today the leading country for Jewish emigration to Israel. It has never been before," said Ariel Kandel, head of the French office of the Jewish Agency for Israel.

Kandel cited figures from the Israeli integration minister showing that, as of August 31, 4,566 Jews had left France for Israel this year.

This was ahead of Ukraine (3,252), Russia (2,632) and the United States (2,218).

"We will get close to 6,000 departures from France in 2014," added Kandel.

He cited a "climate of anti-Semitism that is losing its taboo" as well as economic difficulties in France, which is suffering from zero growth and record high unemployment.

Kandel noted that the predicted departures this year were likely to be around one percent of the total Jewish community in France, which is estimated around 500,000.

"In the Western or free world, we've never seen one percent of the Jewish community emigrating to Israel," he said.

In addition to the largest Jewish diaspora in Europe, France is also home to the continent's biggest Muslim community, which is estimated at around five million.

Concerns have been raised by violent attacks on Jews, including the murders of a rabbi and three Jewish children by an al-Qaeda inspired gunman Mohammed Merah in 2012 in the southern city of Toulouse.

Support has also been rising for far-right parties like France's National Front, which has long faced accusations of anti-Semitism.

Tensions over the recent Gaza conflict spilled out into the streets of France in July with looters destroying Jewish businesses and shouting anti-Israel obscenities in the Paris suburb of Sarcelles – sometimes known as "Little Jerusalem" for its large community of Sephardic Jews.

The ugly scenes led President Francois Hollande to acknowledge in an interview with leading daily Le Monde that there had been a rise in anti-Semitism in France.

"There are groups that are very well organized and active on social networks. Remember the slogans shouted during the 'day of anger' (over Gaza), that had nothing to do with Gaza!" said Hollande.

"One can voice one's opinion about the Israeli-Palestinian conflict without making French Jews or Muslims the victims. We need great intolerance of intolerance," added the president.