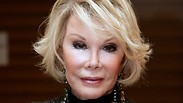 Joan Rivers
Photo: Gettyimages
Joan Rivers was one of the funniest women in the world, and her sharp tongue and fierce intelligence were not restricted to her on stage persona. Rivers was considered for decades as the biggest mouth in comedy, but it was only in the last month of her life that many Israelis began to know and love her.

"They started it, you're all insane, they started it," she said of Hamas during Operation Protective Edge, as many stars expressed their support for trhe Palestinians.

Related stories:

"Let me just tell you – if New Jersey were firing rockets into New York we would wipe them out," Rivers told TMZ, even as Western criticism of Israel's operation in Gaza grew.





"If we heard they were digging tunnels from New Jersey to New York we would get rid of Jersey. You can't throw rockets and expect people not to defend themselves. Don't you dare put weapon stashes in private homes," she said.

Joan Rivers supports Israel

When asked where she thinks the Palestinians were supposed to go, she answered that she couldn't care less since they started the fighting. Rivers also had plenty to say about celebrities who criticized Israel's actions in Gaza; when asked about singer Selena Gomez's tweet "#PrayforGaza", Rivers said "Let's see if she can spell the word "Palestinians".

About the foreign media, Rivers said "CNN and BBC should be ashamed" of what she said was biased reporting of the operation in Gaza.

She even went so far as offer to take on the role of Israel's public relations guru.

"Israel is a wonderful country filled with bright and accomplished people, but you are missing one thing – a good PR person," she said. "Where are the amazing people of Israel? Why don't they make a sound and tell the world the truth? Anyway, don't look any further for that PR person – I am taking the job."
In Hollywood, silence speaks louder than words
"Barbara Streisand, who sat with the Israeli ambassador at a dinner party couldn't find herself uttering one single word in favor of Israel, Steven Spielberg donated money to establish a Holocaust museum, but keeps his mouth shut on this matter; even Harvey Weinstein didn't say anything, nor did all the other major players in the scene. I don't accept it and I am very much ashamed of it. Ashamed, ashamed, ashamed," Rivers told Yedioth Ahronoth in a recent interview.
Farewell
After her death, Prime Minister Benjamin Netanyahu paid tribute to the comedian.
She "made millions of people laugh around the world, she was proud of her Jewish heritage and was an avid supporter of Israel. We will miss her dearly and send our deepest condolences to her family," he said.
Rivers stood by Israel long before its recent military campaign in Gaza. In an interview to Ynet two years ago she talked about her fond memories of the country.
"I paid a visit to Israel together with Lily Safra, which is the right way to visit Israel. I went to the Philharmonic, Yad VaShem and the Museum of Modern Art. I really love Israel, but I have never performed here, I have no idea why. I was never invited," she explained.
Keeping memory of Holocaust through humor
Her Jewish roots were always a central theme of her on-stage performance. "I am Jewish. I don't exercise – If God had wanted me to bend over, he would have put diamonds on the floor".

She said Mel Gibson "needs to die" and called him "an anti-Semitic son of a bitch". At the 2013 Oscar's red carpet she made a joke about Heidi Klum's gown saying "the last time a German looked this hot was when they were pushing Jews into the ovens".

"I use humor to keep the memory of the Holocaust alive," said Rivers after being criticized over her Heidi Klum joke. "My husband lost his entire family in the Holocaust, so don't even get started on this. Your generation doesn't even know what I am talking about."

When the Anti-Defamation League expressed its displeasure over the comments, Rivers refused to apologize. She also criticized President Obama for what she called shoddy treatment of Israel by his White House.

"It's very easy to hate Jews. No one would lift a finger should Israel be wiped out from the face of the earth. If the earthquake that took place in Haiti would occur in Israel instead, I don't think Brad and Angelina would be standing there crying. The way the Obama administration treats Israel is absolutely outrageous and that's when we are the only normal country in this part of the world," said Rivers.