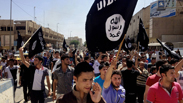 PESHAWAR/DERA ISMAIL KHAN - Islamic State pamphlets and flags have appeared in parts of Pakistan and India, alongside signs that the ultra-radical group is inspiring militants even in the strongholds of the Taliban and al-Qaeda.
A splinter group of Pakistan's Taliban insurgents, Jamat-ul Ahrar, has already declared its support for the well-funded and ruthless Islamic State fighters, who have captured large swathes of territory in Iraq and Syria in a drive to set up a self-declared caliphate.
"IS (Islamic State) is an Islamic Jihadi organization working for the implementation of the Islamic system and creation of the Caliphate," Jamat-ul Ahrar's leader and a prominent Taliban figure, Ehsanullah Ehsan, told Reuters by telephone. "We respect them. If they ask us for help, we will look into it and decide."
Islamist militants of various hues already hold sway across restive and impoverished areas of South Asia, but Islamic State, with its rapid capture of territory, beheadings and mass executions, is starting to draw a measure of support among younger fighters in the region.
Al-Qaeda's ageing leaders, mostly holed up in the lawless region along the Pakistan-Afghanistan border, are increasingly seen as stale, tired and ineffectual on hardcore jihadi social media forums and Twitter accounts that incubate potential militant recruits.
Security experts say Islamic State's increasing lure may have prompted al-Qaeda leader Ayman al-Zawahri to announce the establishment of an Indian franchise to raise the flag of jihad across South Asia, home to more than 400 million Muslims.
Pamphlets, car stickers
Seeking to boost its influence in the Afghanistan-Pakistan region, a local cell with allegiance to Islamic State has been distributing pamphlets in the Pakistani city of Peshawar and eastern Afghanistan in the past few weeks, residents said.
The 12-page booklet called "Fatah" (Victory), published in the Pashto and Dari languages of Afghanistan, was being mainly distributed in Afghan refugee camps on the outskirts of Peshawar.
The pamphlet's logo features an AK-47 assault rifle and calls on local residents to support the militant group. Cars with IS stickers have also been spotted around Peshawar.
Sameeulah Hanifi, a prayer leader in a Peshawar neighborhood populated mainly by Afghans, said the pamphlets were being distributed by a little-known local group called Islami Khalifat, an outspoken Islamic State supporter.
"I know some people who received copies of this material either from friends or were given at mosques by unidentified IS workers," he told Reuters.
A Pakistani security official said the pamphlets came from Afghanistan's neighboring Kunar province where a group of Taliban fighters was spotted distributing them.
"We came across them 22 days ago and we are aware of their presence here," said the official. "Pakistani security agencies are working on the Pakistan-Afghan border and have arrested a number of Taliban fighters and recovered CDs, maps, literature in Persian, Pashto and Dari."
"We will not permit them to work in our country and anyone who is involved in this will be crushed by the government."
Recruitment in India
Signs of Islamic State's influence are also being seen in Kashmir, the region claimed by both India and Pakistan and the scene of a decades-long battle by militants against Indian rule. Security officials in Indian-held Kashmir say they have been trying to find out the level of support for the Arab group after IS flags and banners appeared in the summer.
Intelligence and police sources in New Delhi and Kashmir said the flags were first seen on June 27 in a part of the state capital Srinagar, and then in July when India's only Muslim-majority region was marking Islam's most holy day, Eid al-Fitr.
Some IS graffiti also appeared on walls of buildings in Srinagar. A police officer said youngsters carrying Islamic State flags at anti-India rallies had been identified but no arrests had been made.
Another officer who questions people detained in protests against Indian rule, many of them teenagers, said most were only focused on winning independence from India.
"The majority of them have no religious bent of mind," he said. "Some of them, less than 1 percent, of course are religious and radicalized and end up joining militant ranks. They are influenced by al-Qaeda, Taliban, Islamic State."
Islamic State is also trying to lure Muslims in mainland India, who make up the world's third-biggest Islamic population but who have largely stayed away from foreign battlefields despite repeated calls from al-Qaeda.
In mid-July, an IS recruitment video surfaced online with subtitles in the Indian languages of Hindi, Tamil and Urdu in which a self-declared Canadian fighter, dressed in war fatigues and flanked by a gun and a black flag, urged Muslims to enlist in global jihad.
That came out just weeks after four families in a Mumbai suburb reported to the police that their sons had gone missing, with one leaving behind a note about fighting to defend Islam. It soon turned out that the men had joined a pilgrimage to Baghdad.
They later broke off from the tour group and never returned. Indian intelligence believe the men ended up in Mosul, the Iraqi city captured by Islamic State in June, and that one of them may have died in a bomb blast.
Last week, the Times of India newspaper said four young men, including two engineering college students, were arrested in the eastern city of Calcutta as they tried to make their way to neighboring Bangladesh to join a recruiter for Islamic State based there.
"It's not just these four, but our investigations have found that there could be more youngsters who are in touch with IS handlers and this is a bit of a scary proportion," the newspaper quoted a senior officer as saying.
A top official at India's Intelligence Bureau in New Delhi told Reuters: "The problem is we know so little about this network or who is acting on their behalf here.
"We know roughly where the Lashkar-e-Taiba, the Indian Mujahideen (organizations backed by Pakistan) support groups are, where they make contacts. But this is a different challenge. Youth getting radicalized in their homes on the Internet, in chatrooms and through Facebook are not easy to track."