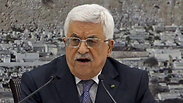 Palestinian President Mahmoud Abbas.
Photo: EPA
The rift between Fatah and Hamas, which developed over the course of Operation Protective Edge, continued to widen Saturday, when Palestinian President Mahmoud Abbas spoke to Egyptian reporters, threatening to break their current partnership if the organization in Gaza doesn't begin to make some changes.

"If Hamas won't accept a Palestinian State with one government, one law, and one weapon - then there won't be any partnership between us," said Abbas. "This is our condition, and we won't back away from it."

The Palestinian leader made the comments while on a three day visit to Cairo, where he said that dialogue with Hamas regarding Palestinian reconciliation could only continue if the organization based in Gaza softens its position.

"We will only be talking to Hamas if they meet our requirements. The partnership with Hamas depends on arms being under the control of the Palestinian State," said Abbas referring to Hamas' underground military wing led by Mohammed Deif.

Related stories:

Abbas said that he demands that the Palestinian Authority be responsible for State decision including when to declare war or sign a peace deal. Khaled Mashaal, the political leader of Hamas, doesn't seem agreeable to these terms according to Abbas.

"Mashaal told me, 'I'm the resistance leader and there will be no ceasefire (between Hamas and Israel) without my agreement,'" said Abbas. One of the Palestinian journalists who took part in the meeting suggested that Abbas is expected to make an official announcement Sunday, during a meeting with Arab League ministers, that the PA will cease the reconciliation dialogue unless Hamas agrees to comply with his stated requirements.

The PA President made similarly threatening comments last week during a television interview in which he addressed an announcement from Hamas that they would be the ones to choose war or peace with Israel. Abbas said in the interview that he opposes the statement and that according to the current reconciliation agreement, decisions of war or peace lay with the PA.

According to Abbas, if this condition doesn't manifest itself into reality, there would be anarchy and no point in keeping with a reconciliation agreement.

"One side can't unilaterally declare war," said Abbas. "That isn't unity or reconciliation." He also stressed that any reconstruction plan in Gaza will be carried out under the authority of the PA.
Rocket 'efficiency'
A group of journalists who participated in the meeting also testified that Abbas announced in the conversation that some 400,000 Palestinians were left homeless as a result of the operation. He also mentioned Hamas' boasts at the end of the operation that the organization was "allowing Israelis to return to the homes."

"Who will return Gaza's residents to their homes?" asked Abbas sarcastically. He continued his criticism of Hamas, asking how they could have been surprised by Israel's military response after having abducted and murdered three Israeli teenagers and then firing rockets at Israel.

Abbas also launched criticism against rocket fire from Gaza, saying that some 4,000 had been fired, but only three Israelis were killed as a result. He added that Hamas' interest in democracy was only as a way to gain power.

But Abbas expressed that he was exacerbated by more than just Hamas. "Honestly - my patience with Israel, the United States and Hamas has expired," he said.

The Palestinian President arrived in Cairo on Friday and he plans to meet with Egyptian President Abdel Fattah al-Sisi as well as taking part in a meeting of foreign ministers from Arab League members.

Meanwhile in the West Bank, Hamas called on its operatives not cooperate with Palestinian Authority security forces investigations.

Hamas spokesperson Hussam Badran condemned the "escalation in the amount of summons and arrests in the West Bank."

Over the weekend, Hamas officials claimed the PA was arresting its men for no reason.