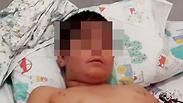 The young wounded boy at the hospital
Photo: Courtesy of Ziv Hospital
A 12-year-old Syrian boy was brought to the Ziv Medical Center in Safed for medical treatment over the weekend after he was severely wounded near Damascus. This was not the first time a wounded Syrian arrived in an Israel hospital for treatment – but no patient has ever crossed the border in this fashion.

The boy told the hospital staff that he had been taken by his brother to the Israeli border near the Syrian slopes of the Hermon, on the back of a donkey."

The young boy apparently sustained the wounds several weeks ago when a mortar shell hit his home in the outskirts of Damascus. He lost sight in both eyes, and was severely wounded in both his arms and one of his legs.

According to the boy, his family had initially taken him to a hospital in the Beqaa Valley in east Lebanon where doctors amputated his right hand. He was discharged after being given superficial treatment for his other injuries.

Due to the fighting in Syria, the family could not return the boy to his home in Damascus, at which point his brother decided to try to take him to Israel for treatment.

The boy explained that he and his brother crossed the Syrian side of Mount Hermon on a donkey until they reached an Israeli military post at the border. IDF soldiers transferred the boy to the medical center in Safed.

"The boy came in with one of his arms severed at the elbow and the other hand shattered as a result of the blast," said Dr. Alexander Lerner, head of the orthopedic department at the hospital.

"He also suffers from a comminuted fracture, and loss of tissue in one of his legs, and he has lost his vision. The boy is conscious, and although he is still agitated, he is communicative and understands what happened. He most likely had to go through a difficult journey to get here," he said.

Dr. Alexander Lerner believes that despite the severe injury, the boy will be able to walk again. "We intend to perform a series of operations on the boy's wounded leg and foot, in an attempt to save them from amputation and get them to function properly as much as possible."

"He is facing a long, difficult treatment period, but the goal is to eventually bring back his ability to walk and function with his damaged hand. According to the few stories we heard, this is a brave boy who has been through a difficult ordeal and survived –therefore I am optimistic and believe that he will be able to walk again," Lerner added.