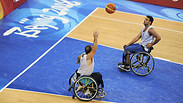 'The players realized that sports can bring people closer and that we don't have to fight' (archive)
Photo: AFP
Seven Israelis and seven Palestinians decided four years ago to overcome the ongoing conflict, the language differences, the cultural gaps and the distance and start a joint wheelchair basketball team.

Now, the team is about to participate in a basketball tournament in the German town of Bergisch Gladbach, at the mayor's invitation.

Coexistence in Sports

Peres Center opens school year with launch of its annual 'sports for peace' program, bringing together Gaza-border children with West Bank kids.

The team has been sponsored by the Peres Center for Peace for four years now and includes athletes aged 15 to 25 from the Palestinian town of Beit Jala and the Spivack Sports Center in the central Israeli city of Ramat Gan.

"We began this project in order to change opinions and perceptions," the team's coach, Tal Ram, told Yedioth Ahronoth. "Everything the people heard about the other side was from what they saw on television. Following the cooperation, they realized that sports can bring people closer and that we don't have to fight."

And what language do the players use to communicate? That depends. Sometimes an interpreter arrives to help them cooperate, and in other cases an Israeli Arab player manages to bridge the gaps.

But they don't always have to talk. Tal explains that "in basketball, there is no need to yell so much and no need to talk. We have the language of basketball."

The team was expected to meet this week for a joint training session ahead of the trip, and the team managers were working to obtain entry permits for the Palestinian athletes.