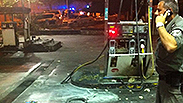 Destruction at the gas station.
Photo: Jerusalem District Spokesman's unit
Hundreds of people attended the Monday funeral of 16-year-old Mohammed Sinokrot, who died of his wounds sustained during a protest over a week ago in the Wadi Joz neighborhood of East Jerusalem. His death sparked street violence in the area and masked rioters threw stones at police during the funeral as well, leading to the arrest of three.

The even that wounded and eventually led to the death of Sinokrot occurred on the 31st of August. His family claims that he was killed by a rubber bullet fired at his head from short range.

The Jerusalem police department denied the claims and said that officers had shot the teen in the leg, causing him to fall and hit his head, bring about his death. According to the police, officers rushed forward to arrest Sinokrot but when they saw that he was wounded they wrote down his details and ordered an ambulance to the scene.

Security cameras show violence at the gas station.

Documents detailing the incident say that the youth was sill conscious and the ambulance from the Red Crescent rushed him to Moksad hospital in East Jerusalem where his condition worsened. Evidence from the field as well as official reports were passed on to investigators.

Related stories:

The announcement of Sinokrot's death set off violence as early as Sunday night when dozens of masked rioters came from Isawiya to a gas station in the "French Hill" where they trashed the store, stole goods, and tried to set the building alight using a Molotov cocktail.

The men spilled oil on the road at the entrance to the area and damaged the fuel pumps at the gas station under the view of security cameras. Police have not yet arrested any suspects in connection with the incident.