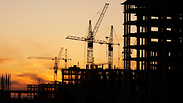 Construction
Photo: Shuttershock
Jerusalem's municipality has approved a large-scale construction project in an Arab neighborhood of the city's eastern sector, a plan it hopes will address a longstanding housing crunch but which also draws attention to decades of neglect.

While city officials say the new plan addresses long-running problems voiced by Arab residents, some there say the proposed new construction is long overdue and fear the construction remains far off.

"Every person has a right to build a house according to law. Israel, because of demographic and political considerations, prevents this basic right," said Ziad Kawar, a lawyer who has worked with residents to promote the plan. "It's a positive response, but it comes a bit late."

Jerusalem's municipality approved a master plan for the neighborhood of Arab al-Sawahra last week, promising to build more than 2,000 housing units, along with schools, new roads and parks. It says the plan, which would develop a huge plot of land that abuts Israel's West Bank separation barrier, also will rein in wildcat construction by Arab residents.

Related stories:

Arab residents of east Jerusalem say the municipality neglects their neighborhoods and does not provide sufficient public services, such as clinics and schools. Arab neighborhoods are often cramped, with many roads narrow, potholed and covered with garbage.

The city's Arab population has for years complained that it faces discriminatory housing and planning policies that favor Jews. They say they are constantly denied building permits and have no choice but to build without them.

After Israel annexed east Jerusalem, its Arab population was granted residency rights, giving them access to Israeli schools and social services. They are able to apply for citizenship but most choose not to.

The housing plan is "all smoke and mirrors," said Daniel Seidemann, an expert on Jerusalem. "This does not address the acute housing needs of Palestinians in east Jerusalem."

Seidemann says the municipality has issued fewer than 4,500 building permits to Arab residents of east Jerusalem since 1967, even as the population has ballooned from 70,000 to 300,000 people.

During nine months of US-led peace talks that ended last spring alone, Israel pushed construction of some 5,000 housing units in Jewish areas of east Jerusalem, according to Peace Now, an anti-settlement monitoring group.

Jerusalem Mayor Nir Barkat passed the new housing plan over the objections of Jewish nationalist council members, though it now faces appeals and must be approved in other committees before it can come into effect. The critics say final approval is a long shot.

City officials say they are committed to the plan.

"The mayor of Jerusalem and the Jerusalem municipality are taking responsibility, for the first time," said David Koren, the mayor's advisor on east Jerusalem. "Let's let an Arab neighborhood look the way a neighborhood should."

The new plan follows the July killing of 16-year-old Mohammed Abu Khdeir, who was burnt to death by Jewish radicals in revenge for the kidnappings and killing of three Israeli teens in June.

Abu Khdeir's murder sparked fierce clashes between Palestinian rioters and Israeli police in east Jerusalem, which resulted in hundreds of arrests and saw part of the city's light-rail system badly damaged. The summer's Gaza war further enflamed tensions. Overnight Monday, the area experienced new unrest following the death of another Palestinian teenager, allegedly from wounds suffered in a clash with police.

Residents who own land in the area say they remain skeptical of the plan.

"We saw thousands of buildings built in the settlements in Jerusalem every year and we are waiting more than 12, 13 years," said Ahmed Abo-Saloum, who owns land in the new neighborhood, but has not been granted a permit to build there. "It's discrimination. We are suffering from it."