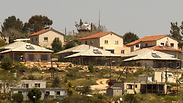 West Bank settlement
Photo: AFP
Huge gaps in government funds to communities in Israel shows that the West Bank settlements have for decades been receiving vastly preferential treatment, while residents of development towns only get a very small amount, according to a report by the Adva Center released Tuesday.

In the two decades between 1991 and 2012, Israelis living in the West Bank were allocated an average of 2,695 shekels per year, compared to 1,892 shekels for residents of development towns, NIS 2,277 for those living in Arab communities and just NIS 1,684 for anyone living in the established "Forum 15" cities, which includes Tel Aviv, Holon, Herzliya, Haifa, Be'er Sheva and Ra'anana.

Based on surveys conducted over the past two decades, Arab communities received the most significant increase in government funds - from 746 shekels per capita in 1991 to 2,277 shekels in 2012. In contrast, development towns were the only group in which there was a reduction in funding.

Expenses in the settlements stood at an average of NIS 6,431 per capita in 2012. But when the distinction between non-Orthodox and Orthodox settlements is factored in, the picture changes: In 2012, per capita expenditure in the budget for ultra-Orthodox settlements, a sum of NIS 3,596, was the lowest, even lower than that of the Arab communities (with NIS 4,688 per capita). However, expenditure in non-Orthodox settlements - NIS 7,416 per capita – was the highest in Israel, exceeding even the "Forum 15" cities.

The report, authored by Adva's Shlomo Swirski and Etty Connor-Attias, also showed that non-Orthodox settlements received government funding that was 2.4 times higher than that received by their ultra-Orthodox counterparts (Betar Illit, Modi'in Illit and Immanuel) - NIS 3,213 and NIS 1,359 per capita respectively.

This is primarily because ultra-Orthodox communities, the government's financial contribution, much of which is earmarked for education, is not transferred to the local authority but goes directly to two major Haredi education networks, the "Independent Education" organization of the Agudat Israel party and Shas' "Spring of Torah Education". Furthermore, Haredi institutions that do not belong to one of these two networks are classed as "recognized education that is not authorized" and as such are only entitled to partially government funding.

The last two decades, Israel's population grew at a rate of 60 percent. Of the four groups of communities, the most significant growth – 240 percent - was recorded in the settlements. The main increase came in three ultra-Orthodox settlements, where the population increased by 376 percent. The population of non-Orthodox settlements increased by 80 percent - a rate close to that of the other groups of communities.

The government contributes to the local budgets via "earmarked contributions", which go towards educational and welfare services, and through "balancing grants", which are used to reduce accumulated deficits in poor local authorities. Communities in the "Forum 15" do not receive "balancing grants".