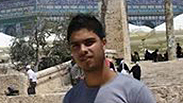 After several days of increasing tensions in the West Bank, a young Palestinian man was shot dead by IDF soldiers during a riot in the al-Am'ari refugee camp near Ramallah early Wednesday morning, when troops entered the area in an attempt to arrest a wanted Hamas member.

According to Palestinian medical sources in Ramallah, 22-year-old Issa al-Qatari died after he was shot in the chest by live fire. The IDF said that troops had fired on one of the rioters, presumably al-Qatari, after he threw an explosive device at the soldiers.

The Palestinians said that al-Qatari succumbed to his wounds after being evacuated to the hospital.

Some 50 Palestinians took part in the riot, throwing stones and Molotov cocktails at the Israeli soldiers. Aside from the killing of al-Qatari, troops responded with crowd control measures.

Related stories:

The Palestinians said that the violence broke out after IDF troops arrived at the refugee camp looking to arrest Ala Jelita, a wanted Hamas operative.

Similar incidents of violence have been on the rise in the West Bank, particularly in East Jerusalem where street violence erupted during and after the funeral of 16-year-old Mohammed Sinokrot, who died of head wounds a week after a clashing with security forces in the Wadi Joz neighborhood of the city.

His family claims that he was killed by a rubber bullet fired at his head from short range, but the Jerusalem police department denied the claims and said that officers had shot the teen in the leg, causing him to fall and hit his head.

Masked rioters took to the streets and confronted police when Sinokrot's death was announced and all throughout the day of his funeral, ransacking a gas station and causing other damages.