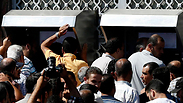 Cash run on Gaza banks
Photo: AP
Tensions between Fatah and Hamas are close to breaking point over the non-payment of salaries to Gaza's public sector workers, raising the risk of a return to conflict in the territory, officials say.

The ceasefire struck last month to end the conflcit Hamas included stipulations that the Palestinian Authority, led by President Mahmoud Abbas of Fatah, should take over civil administration in Gaza from Hamas.

Hamas thought that would mean its 40,000 employees in Gaza, who have not been paid for months and are growing restive, would be taken care of via the Palestinian Authority payroll, which already supports 90,000 public sector workers in the West Bank and a further 70,000 in Gaza, but only those linked to Fatah.

Not only can the Palestinian Authority not afford to pay all those extra workers, but international donors who support the PA budget, including the European Union, first want a thorough audit of workers and cutbacks to the bloated payroll, which costs more than $2 billion a year. Paying the Hamas salaries as well would add a further $420 million.

 

Related stories:

Equally, Fatah is unwilling to give any support to Hamas until the movement stops running what Abbas has described as a "shadow government" in Gaza and fully commits to a unity government deal that the two parties agreed last April.

 

"If Hamas won't accept a Palestinian state with one government, one law and one gun, then there won't be any partnership between us," Abbas said last week. "This is our condition, and we won't back away from it."

 

Hamas spokesman Sami Abu Zuhri said there was no desire to return to conflict and that efforts were being made to meet with Fatah officials to reconcile differences. Memories of 2007, when Hamas openly fought Fatah in the streets of Gaza before seizing full control of the territory, remain fresh.

 

As a stop-gap measure, the Hamas-controlled Finance Ministry in Gaza announced on Wednesday it would make partial payments, between 1,000 shekels and 4,500 shekels ($275 and $1,240), to Hamas-hired government employees on Thursday.

 
Cash in hand
But time is running short; the ceasefire signed in Cairo on Aug. 26 allowed a month for progress to be made on bedding down the peace deal, including reconciliation between Hamas and Fatah and steps by Israel and Egypt to loosen their blockade on Gaza.

 

"There is a very real risk of a return to violence if these tensions over salaries are not resolved as soon as possible," said John Gatt-Rutter, the EU representative to the Palestinian Territories.

 

Another European official, who is involved in discussions with the Palestinian Authority, said a solution might have to wait until after a donors' conference in Cairo on Oct. 12.

 

That may be too late. Hamas-hired workers, frustrated by the fact Fatah employees in Gaza continue to be paid salaries despite not having worked since 2007, overran several banks last June and police ordered banks to close.

 

Robert Serry, the UN secretary-general's personal representative to the Palestinian Authority, has been shuttling backwards and forwards between Gaza and Ramallah in the West Bank, where the PA is headquartered, looking for a solution.

 

One possibility is that Qatar, a deep-pocketed and steadfast supporter of Hamas, will make interim payments - not salaries - to Hamas employees until a longer-term solution is found. In talks with Hamas and PA officials, Qatar said it was ready to provide the funding.

Yet even at best that is likely to involve two or three payments to tide people over, officials say, something Hamas believes is insufficient. And such a solution may not be acceptable to Hamas and the Gaza workers' union, which insist payments should come from the main PA budget for them to be recognized as public sector employees.

What's more, because of restrictions on bank transfers to Hamas, which is designated as a terrorist organization by the United States and European Union, Qatar would not be able to electronically transfer the funds.

Instead, officials say, it would likely have to take cash into Gaza and distribute the money manually. Taking perhaps $40 million in cash to distribute to 40,000 people would be fraught with problems.

While Israel, which controls most of the crossings into Gaza, has indicated that it would be willing to accept such an interim solution, it is not clear that Egypt, which controls the Rafah crossing on its border, is as sanguine.

And others involved in the process have deep reservations.

"We need to be very careful about how any such temporary payments are made," said a foreign diplomat. "Even if there's the cash, there's an issue of precisely how the money is channeled and who it is handled by."