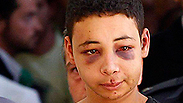 Tariq Abu Khdeir
Photo: Reuters
The Police's Internal Investigation Department filed an indictment Wednesday against a Border Guard officer who was documented violently attacking an American-Palestinian teen.

The indictment charges the officer with assault and was filed with Jerusalem Magistrates Court for an incident which took place at the beginning of July in which 15-year-old boy Tariq Abu Khdeir was brutally assaulted during riots in East Jerusalem's Shu'afat neighborhood.

The boy is the cousin of slain teen Mohammed Abu Khdeir, who was murdered a week before the incident in question by three Jewish youths, residents of Jerusalem, in retribution for the kidnap murder of three Israeli teens in the West Bank.

Abu Khdeir's murder sparked riots in the eastern part of the city during which his cousin was beaten and arrested.

Related stories:

The charge – assault of a minor with the intent to cause injuries – is partly based on a video recording in which the officer can be clearly seen beating the teen. Since the video was published and sparked an international outcry, the police gathered additional evidence and also interrogated two other officers involved in the boy's arrest.

Video of assault on Tariq Abu Khdeir

The Justice Ministry said a police investigation concluded that "evidence was found supporting the guilt of the police officer suspected of severe violent crimes." It did not name the officer charged. The police also said the 15-year-old was "taking an active part in the riot".

The other officers, the indictment says, did not attack the boy, nor could he have prevented it, and therefore were excluded from the suit.

According to the indictment, in the afternoon hours of July 3rd a number of Palestinians gathered and began disturbing the cease in Shu'afat's main road in protest of the murder of Abu Khdeir. According to videos from the scene, they threw rocks and fire bombs, as well as setting tires ablaze.

The officer charged in the indictment spotted Tariq Abu Khdeir, who was masked at the time, holding a slingshot used to sling stones at the officers. He began to chase the boy - who scaled a tin fence surrounding a construction area – in an attempt to arrest him. At this point he was joined by an additional officer.

The accused and the additional officer overtook the boy, but then the former began to beat him, hitting and kicking his body and face, despite the fact the boy was not resisting his arrest, the indictment said.

The officers then lifted the unconscious boy and dragged him away, during which time the officer in question kicked him again, at which point they were joined by a third officer, during which time the officer kicked yet again, but this time in his face.